2D2N ORGANIC HEALING HERBS WORKSHOP
& LANGKAWI GETAWAY
For Garden Lovers Who Enjoy Travelling & Learning
The Magical Use Of Herbs & How To Grow Them
It is said that an edible garden is not complete without having a herb section. These magical plants with special healing benefits have been used for thousands of years. Rich in nutrients, phytochemicals and active constituents, they are well-known for boosting our health and well-being. However, many people shy away from growing herbs as they find gardening difficult.
A few common refrains from beginner gardeners:
– All my herbs died after a short while
– How do I keep my plants alive?
– I don't have green fingers, I am a plant killer
– I find herbs difficult to grow. What am I doing wrong?
– How do I use herbs properly and which herbs are best for me?
Many of us wish we could grow our own herb plants at home, but just do not know how. The food lovers among us dream to have an Organic Herb Garden at home thriving with fresh herbs and spices, ready to use at a moment's notice to spruce up any home-cooked meal for friends and family.
Whenever we meet gardening gurus, we see their plants growing so fabulously and seemingly effortlessly…… but when we look at our own withering plants……oh, how we wish they could offer us a tip or two……. Wouldn't it be wonderful if there were some generous experts out there who could just give us all the most practical tips in one go? Why is it so hard to acquire Green Fingers?
If only somebody could paint the whole picture clearly,  let us in on the Secrets to Green Fingers. Better still, teach us the True Exact Organic Methods to grow and how to properly use herbs for their maximum benefits.
Is it possible for typical Urban Dwellers (especially Singaporeans) to grow Organic Food at home ? Is it really possible to own an Organic Farm and grow your favourite vegetables, herbs and fruits ?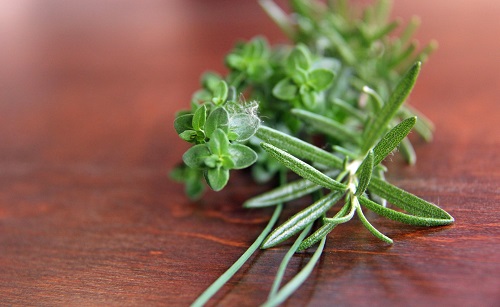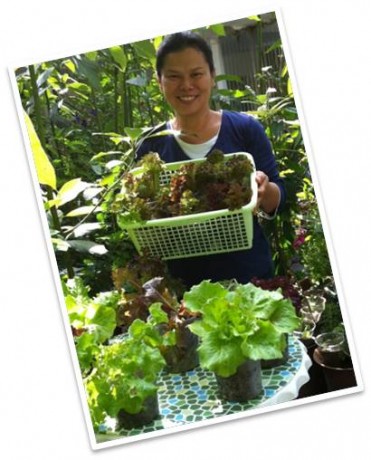 Discover how EASY it is to grow your own Organic Herb Garden and have fresh herbs ready to use at any time. You will be amazed at the benefits of medicinal herbs you can grow at home. The knowledgeable and expert herbalist, Dr. Abdul Ghani Hussain is ready to share his know-how of these wonderful Gifts of Nature. Joanne will also impart her collection of essential tips for successfully cultivating a thriving Organic Herb Home Garden.
Green Fingers Magic : Learn the 3 Do's & Don'ts, the keys to keeping your plants alive and healthy.
Sustainable Organic Farming : Understand the fundamental concepts of Organic or Nature farming so that you get it RIGHT from the start.
Nurturing Soil; Composition & Mgmt : Learn the secrets of nurturing soil and growing happy plants with very little problems. No rocket science required.
Seeds & Germination : Learn how real farmers germinate their seeds and enjoy higher success rates.
Caring for Healthy Crops : Find out what are the little things farmers do and the shortcuts they use to keep their crops healthy and ready for harvest.

Green Manure & Fast Composting : Avoid mistakes such as using animal droppings (toxic) and find out how simple trash can be recycled into good slow-release fertilizers without any foul smells.

Enzyme Making & EM1: We will reveal the secrets of making and using enzymes which are essential for a healthy and lush garden.

Caring for Healthy Crops : Find out what are the little things farmers do and the shortcuts they use to keep their crops healthy and ready for harvest.

Propagation & Grafting : Discover first hand how easy it is to do grafting (an important advance skill) without the need for reading thick gardening handbooks.
Using Herbs or Wild Weeds as Medicine : All-natural remedies for common ailments

Common Useful Culinary Herbs & Spices : Quickly add flavor and color to your home-cooked dishes

How to Use Herb Plants for making Tea, Poultice, Tincture & Tonics : Make your own healing aids and health tonics


How to Preserve and Pack Herbs : Learn time-tested handling and storage techniques

How to Grow Herbs Organically : 100% non-toxic  herbs for worry-free consumption

Functional Value of Ulam : ??

Herbs as our Medicine against Flu, Infection, Inflammation, Detox Liver, Heart, Diabetes, Cancer

Herbs to enhance beauty of Skin, Hair & Slimming : Forget about pills and their nasty side-effects. Achieve your ideal body the healthy and natural way.

Fermented Herbal Foods : Detox your body and protect your liver!

Brewing Herbal Tonic for Energy, Youthful Vitality & Longevity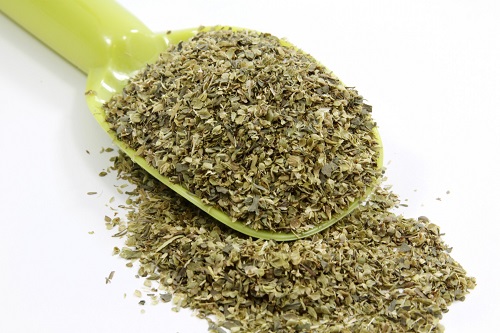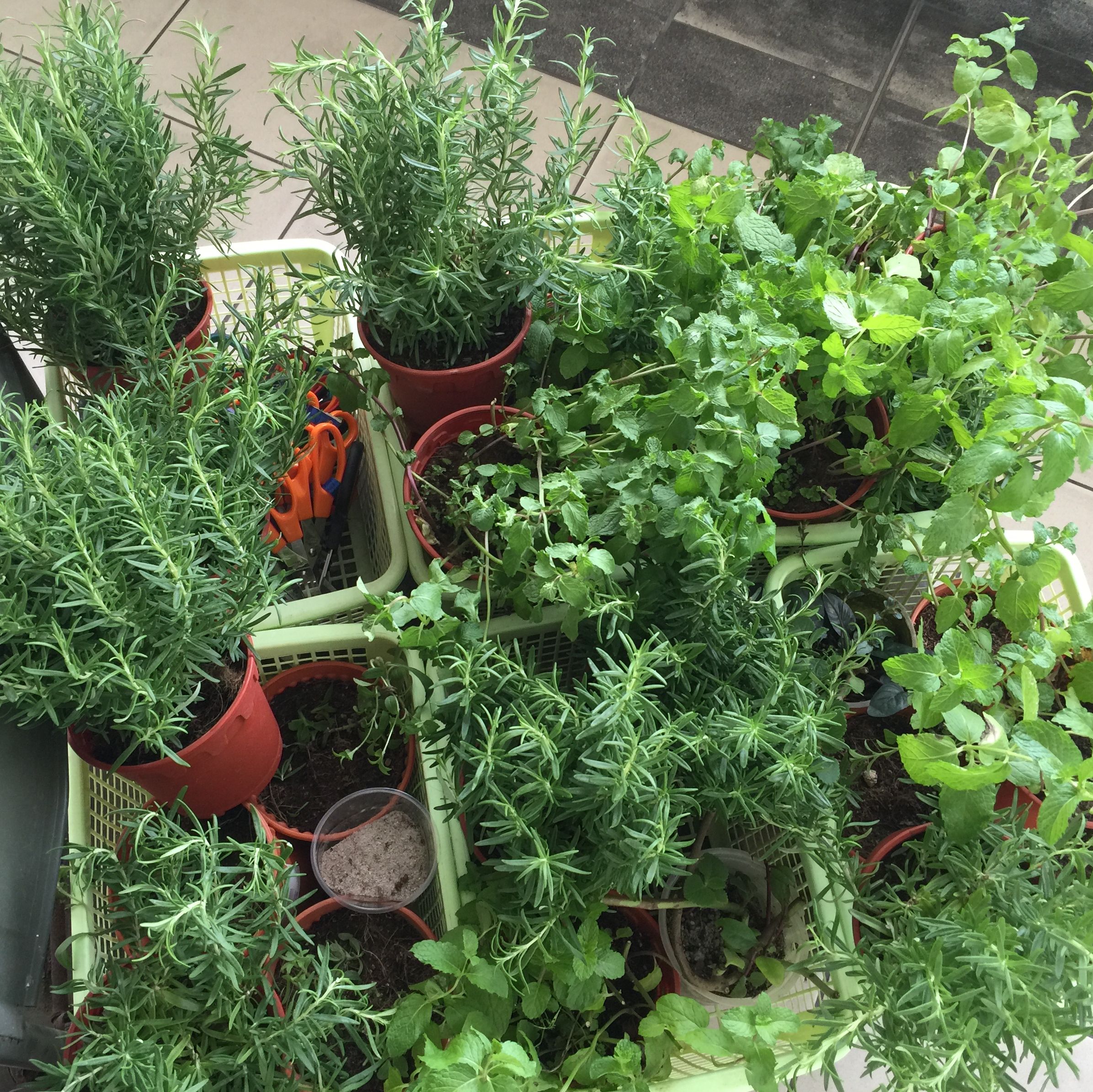 About Dr. Abdul Ghani Hussain
---
Dr. Abdul Ghani Hussain is a renowned figure in Langkawi after practicing Medicine there for more than 30 years. He has now set aside his practice to concentrate on the study of Traditional Malay Medicine and Islamic Medicine.

He has been actively collecting and studying medicinal plants since year 2000 and his collection today amounts to more than 500 different species and it is growing steadily.

Many secrets and untold treasures await discovery within the medicinal plants used by shamans, healers and the indigenous people of the Rainforest Tribes. Dr. Ghani is driven to uncover this hidden knowledge and share it with the world.
Hands On Activities
This is a HANDS-ON Organic Workshop. You WILL be getting your hands dirty while learning step-by-step the actual growing methods and plant care by the Professional & Experienced Herbalist Guru, Dr. Ghani.
Some of our Hands-On Activities:
Soil -Work & pH correction

Preparing the Medium

Planting and daily care

Preserving and Packing Herbs for storage
Visits and Other Activities:
HerbWalk at Dr. Ghani's garden
Cruise at Mangrove Swamps

Breathtaking Langkawi Sky Bridge
Langkawi, the Jewel of Kedah (Malaysia)
Billed as a "Travellers' Choice" destination by TripAdvisor, the Langkawi archipelago is a tropical paradise located in north-west Malaysia in the Andaman Sea.
Pulau Langkawi, the largest of 99 islands, is home to lushly forested hills, pristine beaches and crystal-clear waters. It is also proud to be part of the UNESCO Global Geopark Network since 2007.
Feast your eyes as well as your taste-buds as you take in the local cuisine and natural beauty of its waterfalls, wildlife and greenery.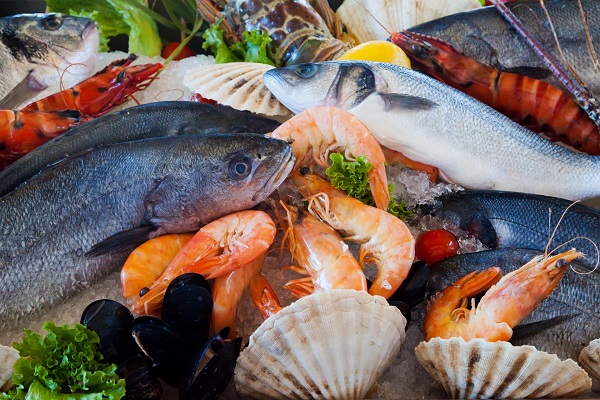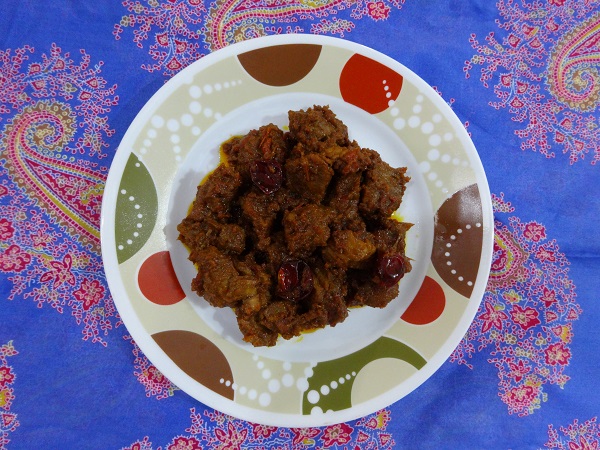 For Whom?
This Workshop is for the following people:
People who find it difficult to grow a healthy herb garden

People who wish to learn more about herbs and their wonderful medicinal and beauty-enhancing uses

People who love learning while travelling

Urban Farmers to be

Nature lovers who wish to get back to nature

People who dream of having a healthier lifestyle
This Workshop is NOT for the following people:
People who don't like getting their hands dirty

People who do not have an open mind in learning because they already "know it all".

People who expect results without doing anything

People who hate travelling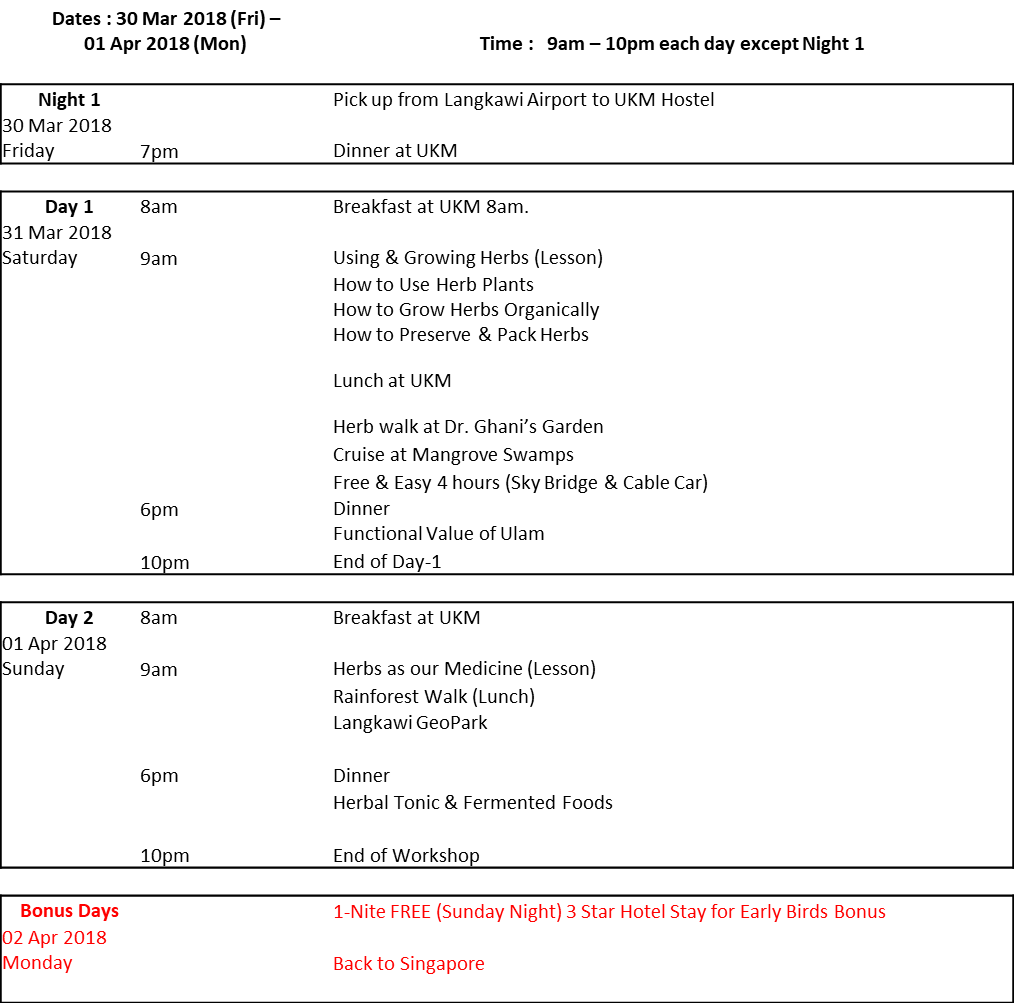 Fee :       *S$588 NETT per pax
*Includes: Lectures, HerbWalks, Sky Bridge, 2-Night Accommodation, 4 Meals & Domestic Transport.
Airfare, VISAs & Insurance NOT Included. Gardens With Purpose recommends flying the Scoot airline with ticket prices usually ranging between ($100 – $300).
For Malaysian Participants, please contact our Malaysian Agent for an easier registration process. Contact details can be found here!


For Singaporeans and other nationalities, please register using the sign up button above or read on about our BONUS below!
---
Buddy Package
Bring along a friend and enjoy a huge discount off the total price. Double the learning, double the freebies and DOUBLE THE FUN! Buddy Package is now S$1088 (Up S$1176.00). *New Additional Early Bird Buddy Bonus for Mar 2018 Workshop Below*
Early Bird Bonus
For the first 20 registrations, we will be giving away a bonus Organic Herb Starter & Care Pack (worth more than $50).
– 10 Herb Plant Cuttings
– 3 Pots of Herb Plants (SourSop, Moringa, Stevia) S$15
– 1 Tub of Organic Fertilizer for Herb-Growing S$18

**
– 2 Bottles of Soil Conditioner S$18

**
Plus! 1 Night Free Hotel Stay at Hotel in Town from Day 3 (Twin Sharing Room)!
**For overseas participants (Non-Singaporeans), items of equivalent value will be given instead due to the limitations of custom control. For more information, feel free to contact us or our authorized agents HERE!
So Sign Up Now by clicking on the button below!
---
For Malaysian Participants, please contact our Malaysian Agent for an easier registration process. Contact details can be found here!


For Singaporeans and other nationalities, please register using the sign up button above.
Message from Joanne
Many cultures ever since the beginning of History,  have been recording all the wonderful benefits of herbal and medicinal plants in their land :  Traditional Chinese Medicine,  Ayurvedic, etc.
Of late,  due to technological advancement and urbanization,  we quickly classified them as 'Traditional Medicine', implying that this knowledge is  'old fashion and not scientifically tested'.
Hopefully,  our generation will get to see the truth about the wonderful healing power of herbal plants. Food is indeed our Medicine,   this is the real GOLD,  time-tested for thousands of years.
How many people or doctors actually know these plants? If we don't recognize this now,  soon such knowledge will be a lost Art,  forever.
As part of Gardens With Purpose 's mission  "connecting people back to Nature",  we constantly search for good knowledge and good people to teach important Nature &mission-critical  Life Lessons.
Dr Ghani is very famous in Malaysia,  with his medical background,  he had been collecting precious plants and documenting them. It is with deep admiration and gratitude that he has agreed to teach for us and show us his collection.
Organising this trip to Langkawi is the start of many new journeys for Healing plants and a place to truly appreciate raw Nature.
It's time, we need to support and keep such important knowledge going, for our future generations.
To your vibrant Health,
Joanne Ng
Gardens With Purpose Founder