1-Day Advanced Skills for Organic Edible Gardens 
Jump Start to Advanced Organic Gardening Skills
SkillsFuture Credit Eligible! (Course Code: TGS-2020502544)
*Precautionary measures against COVID-19 listed at the bottom of this page.
---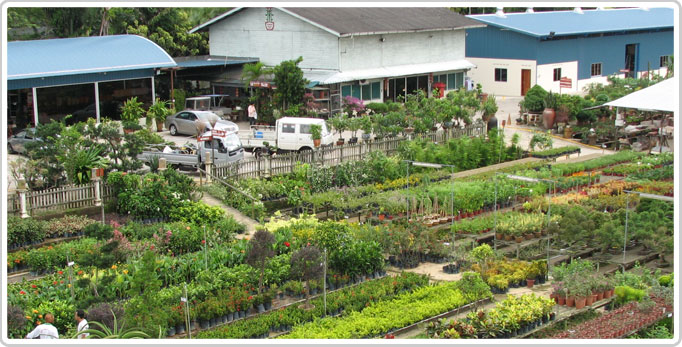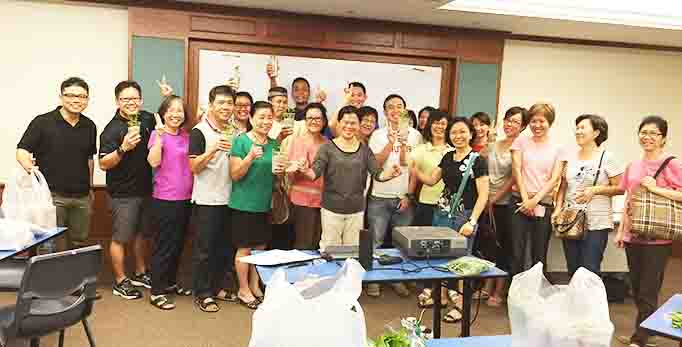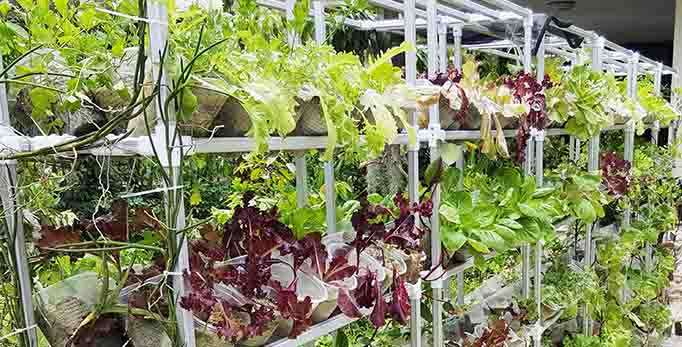 The Secrets Of Growing Organic Vegetables
This 1-Day hands-on workshop will provide important knowledge and practical tips to building and maintaining Edible Gardens quickly.  These skills would normally take a beginner gardener many years of trials and errors to discover.
Participants will learn important gardening techniques and hands-on tricks and start growing Edibles on a bigger scale confidently.     Detailed information and step-by-step instructions will be given.  Participants will also be shown how to best manage common PESTs and diseases without the use of toxic chemicals.
Pre-Requisites :   Already attended our 1-Day Organic Vegetables or 1-Day Culinary Herbs workshop.
This workshop is ideal for people who wish to go into Organic Food production industries.    Workers from the Agriculture Industries, Community Gardens, Garden Nurseries, Landscape Companies, Health industries, Facility Management, Condominiums and VWOs will find this workshop very useful.
Anyone who has interest in working with Soil Gardening and Organic Foods will find this workshop a very useful jumpstart.  All Professionals and un-employed who wish to catch up with the forthcoming Organic Trends, may want to consider acquiring this new skill in order to expand their new career opportunities.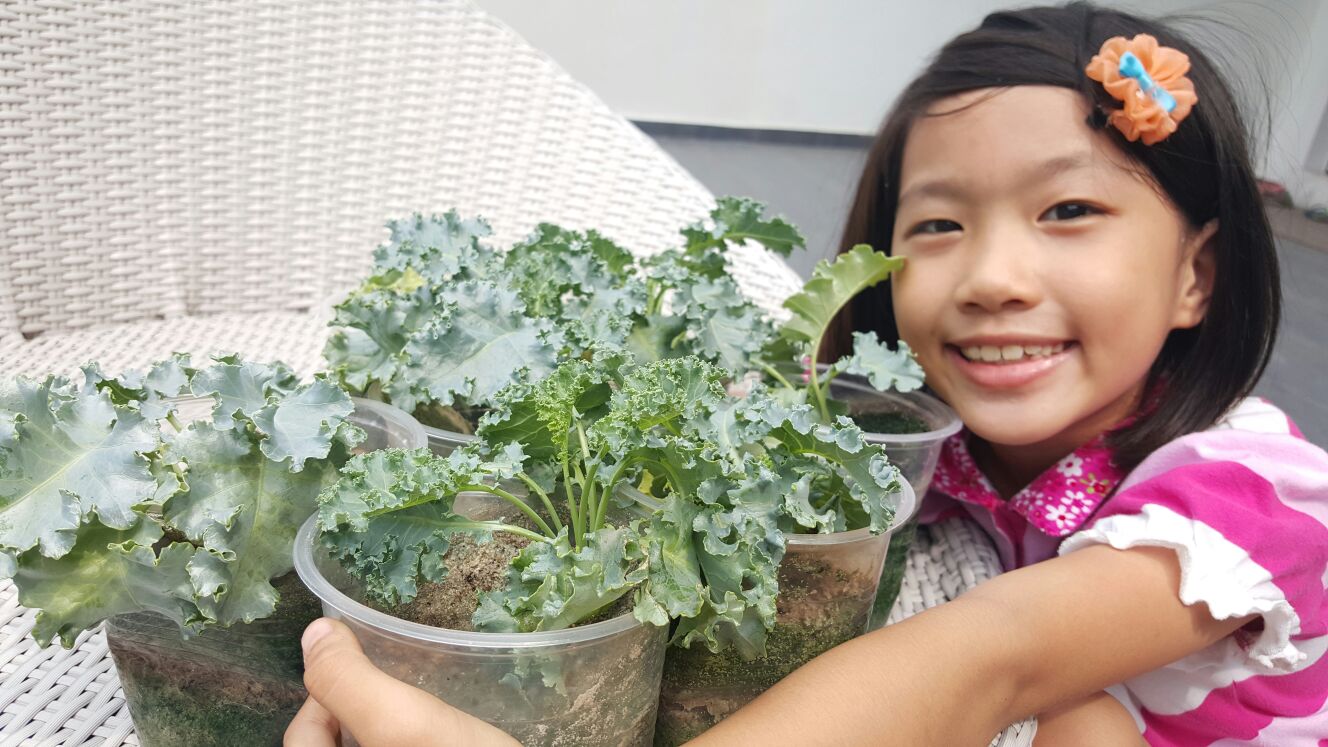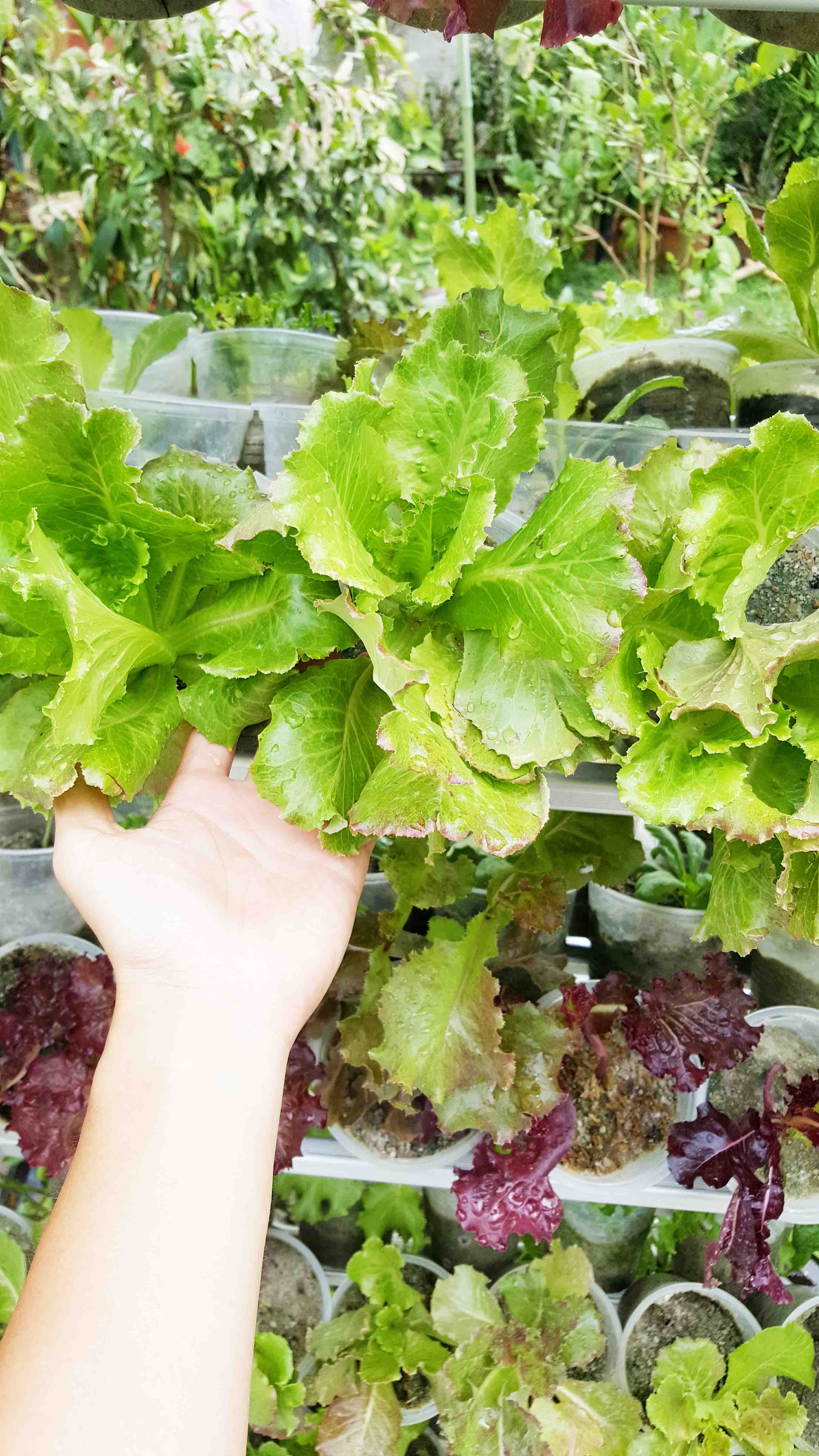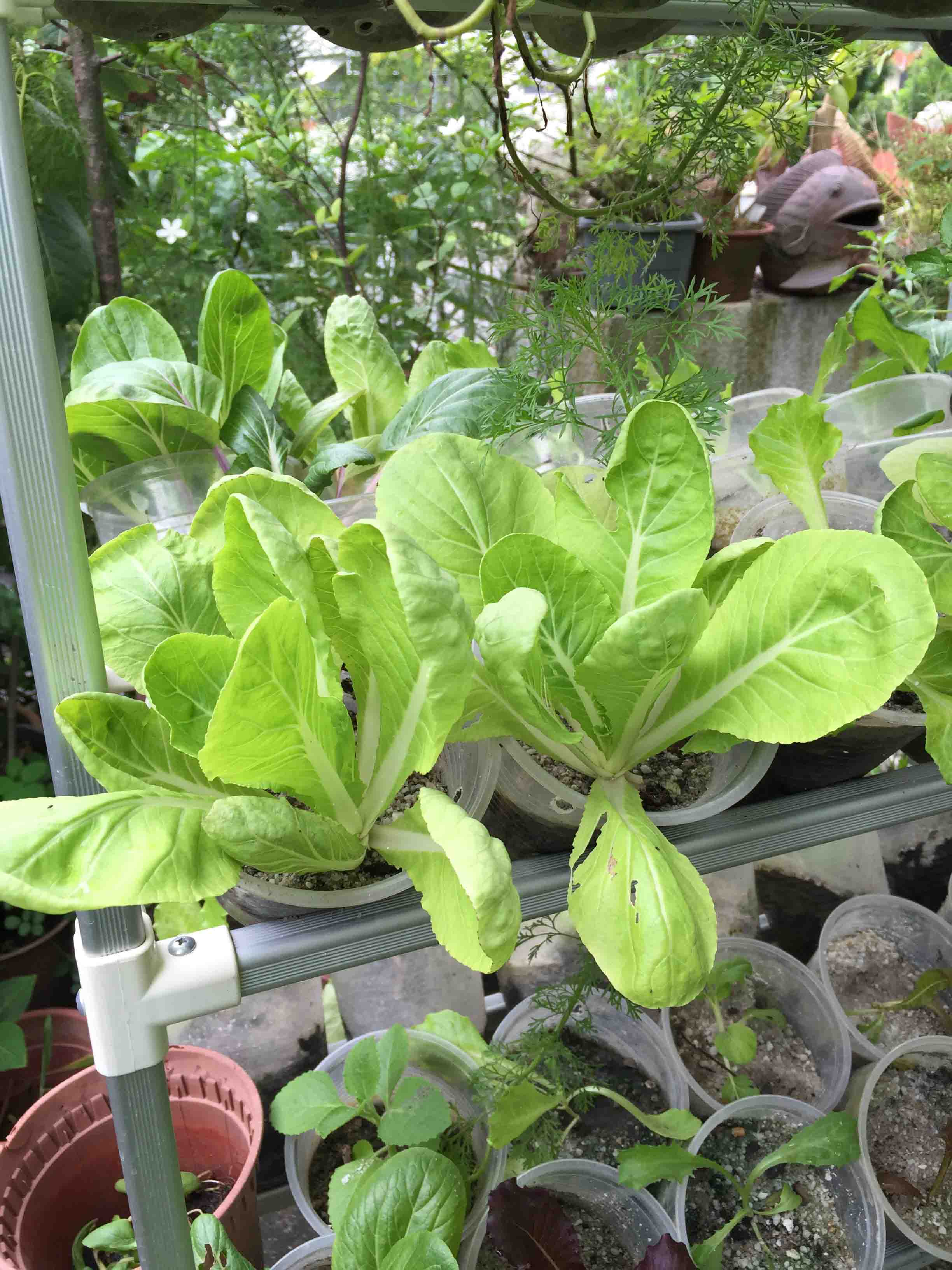 Soil Microbiology.
Perfect Soil :  Trace Minerals & Mineral-Rich Soil.
Basic Garden Design Layout & Automation.
How to Make Soil Probiotics.
Uses & Benefits of Good Microbes.
How to compost Food & Garden Waste.
Do's and Don'ts of Composting.
Growing nourishing mineral-rich edibles.
How to have more Leafy Growth.
How to have more Flowers.
How to have sweeter Fruits.
Common Plant Diseases in our Hot Climate.
Symptoms of Mineral Deficient plants.
Treating Mineral-Deficient Plants.
Symptoms of Plants having Fungal Attacks.
Treating Fungal Problems.
Symptoms of Plants having Bacteria Infection.
Dis-infecting organically.
Managing Pest Attacks Organically :
Fruit Flies, Ants, White Flies, Mites, Termites, etc
Propagation Techniques.
Cutting, Air-Layering/Marcotting & Grafting.
Creative Uses of Grafting.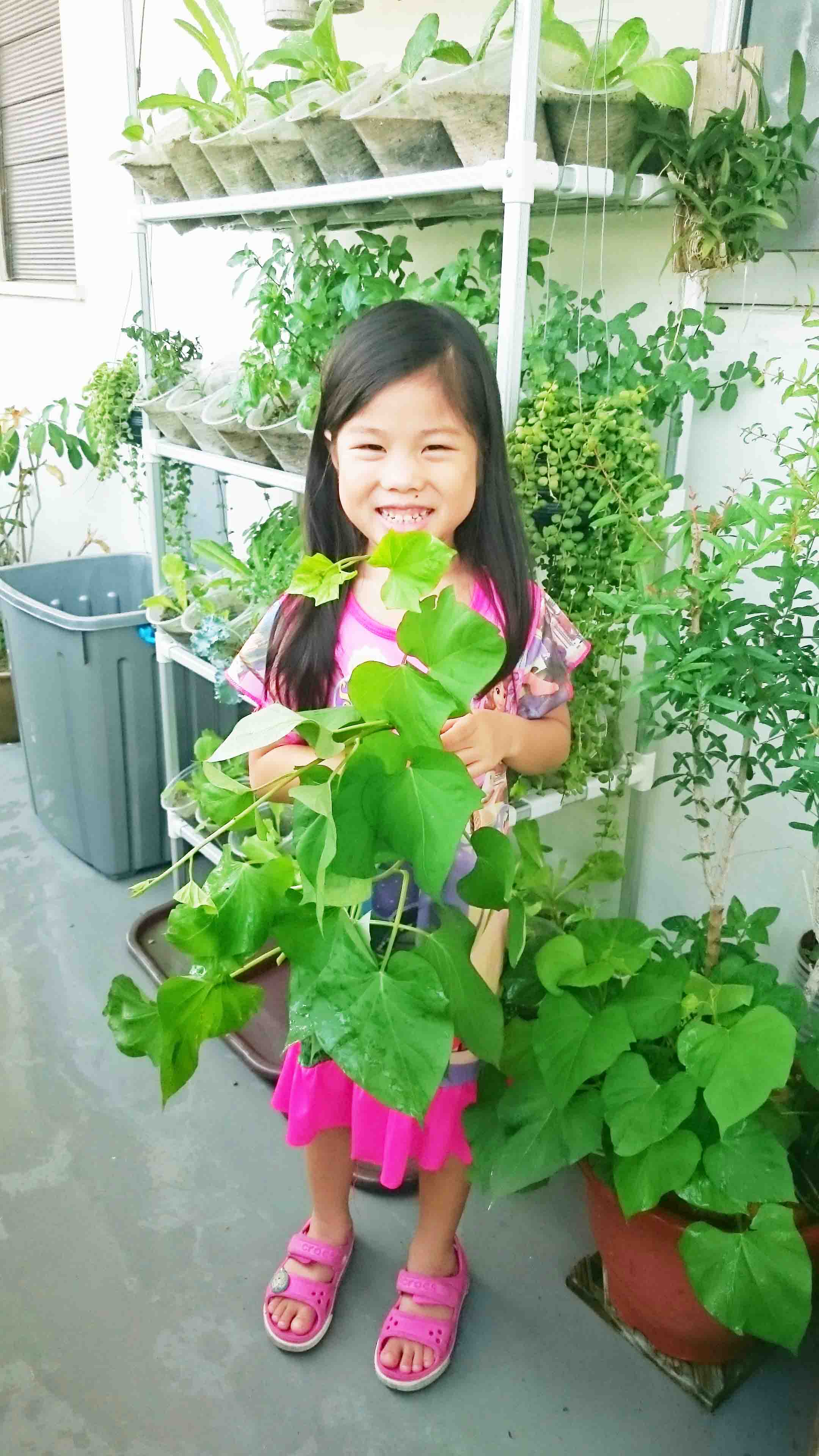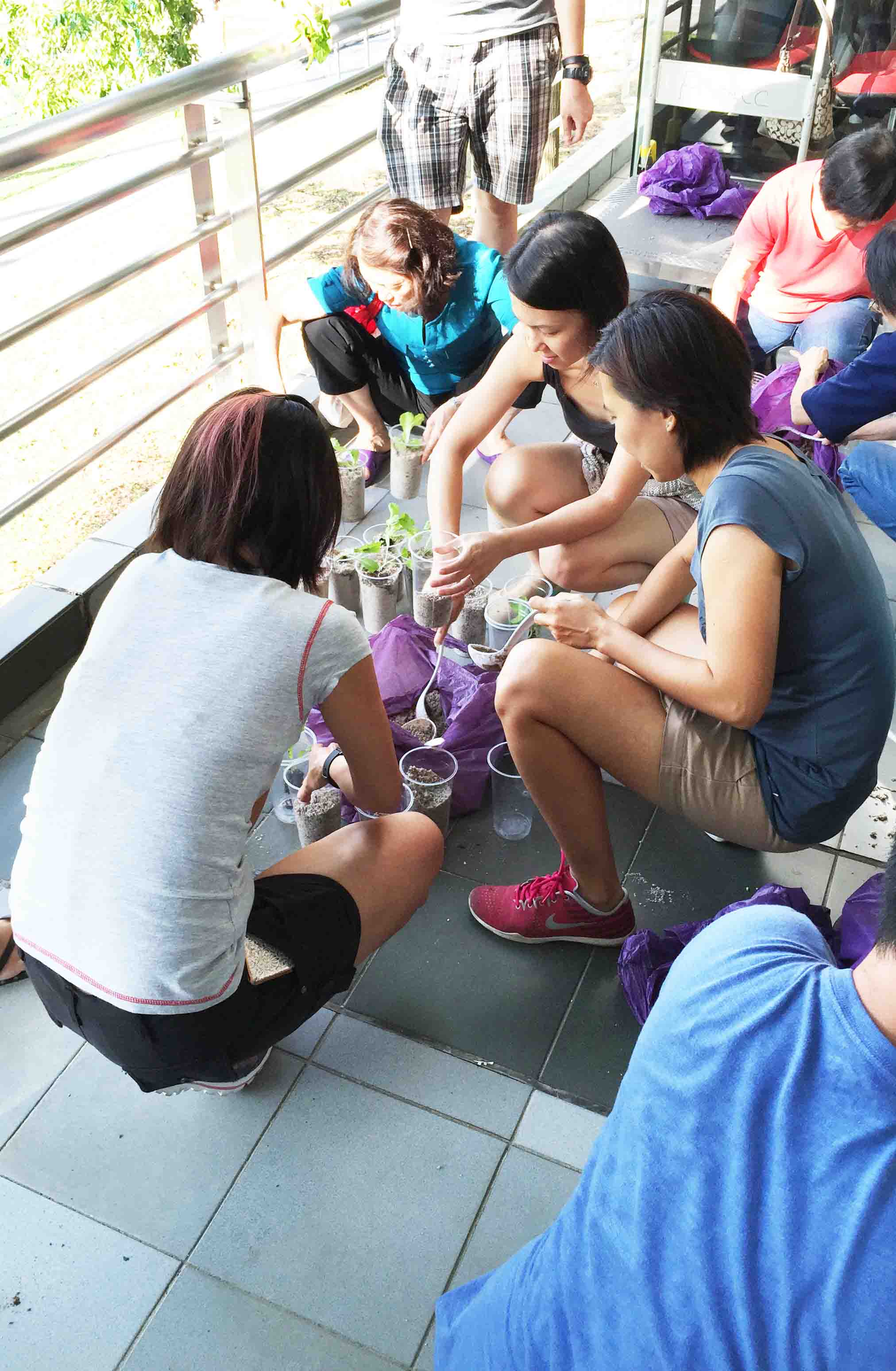 ---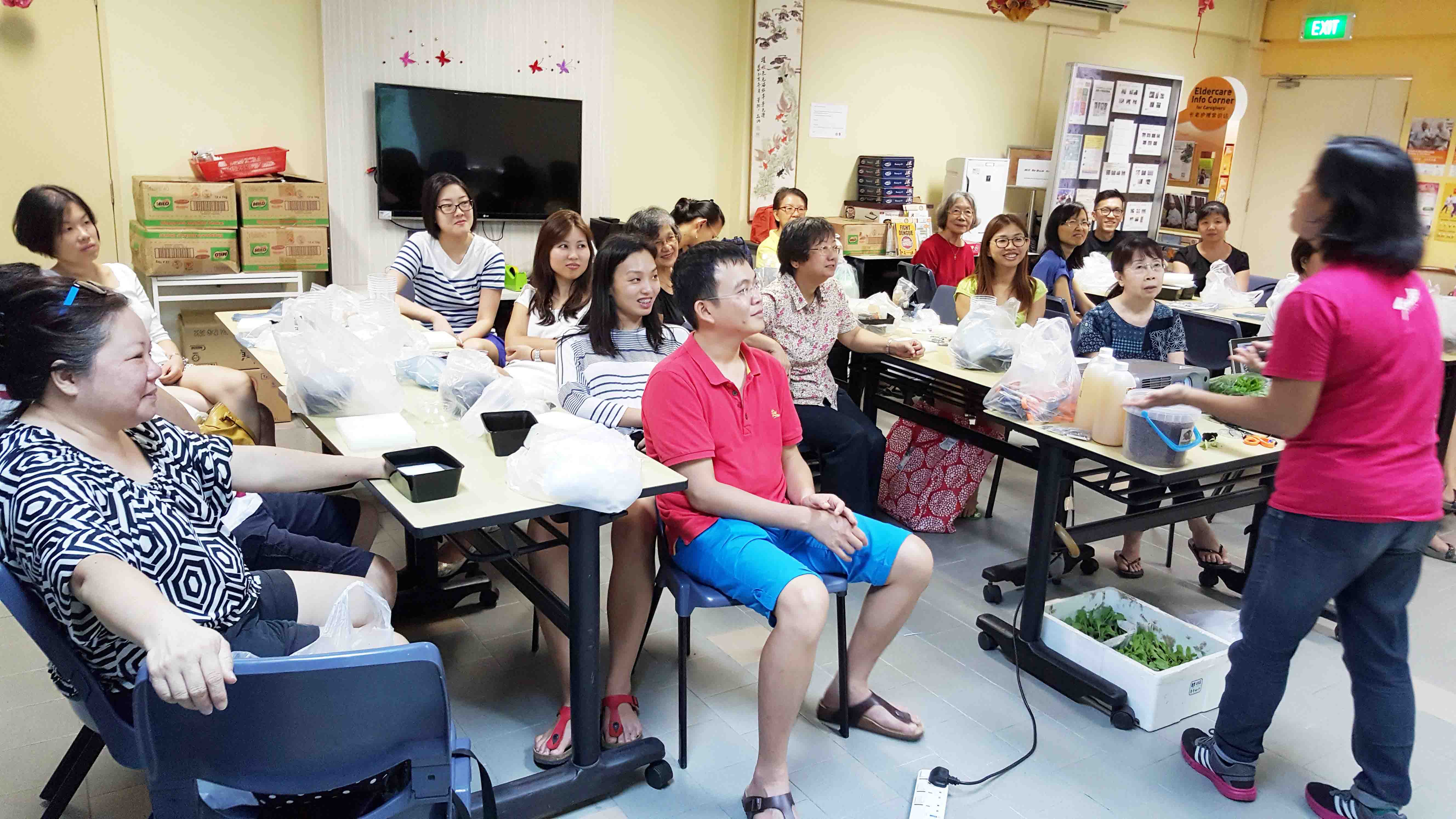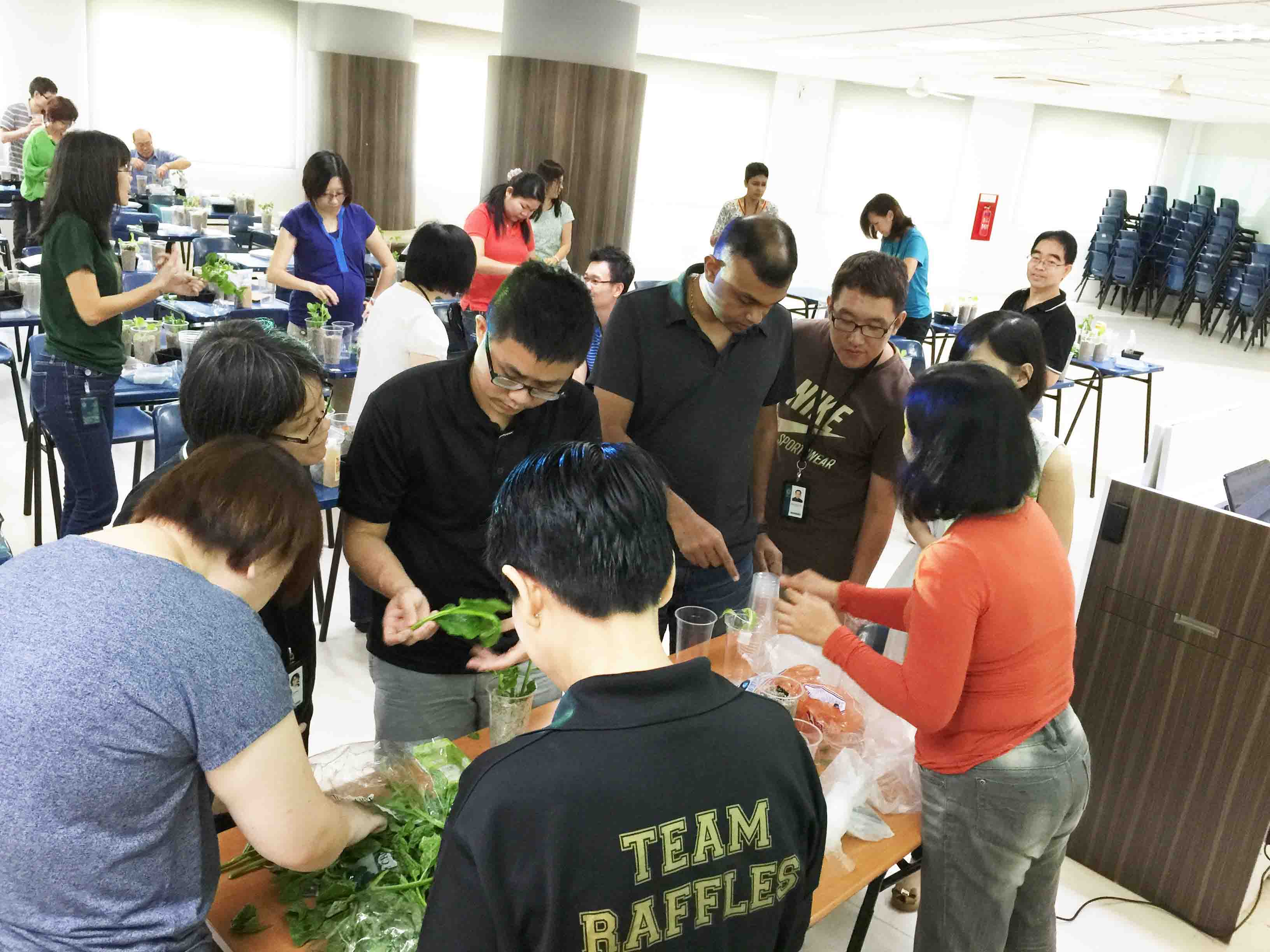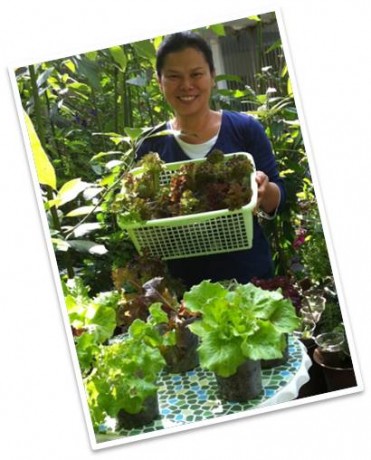 This is a HANDS-ON Organic Workshop which means you WILL be getting your hands dirty. Learn step-by-step first hand the actual methods used by Professional Gardeners.
Hands-On Activity :  Soil Work and Transplanting.
Hands-On   Preparing Soil Probiotics.
Hands-On   Preparing Food Waste for Composting.
Hands-On   Cutting, Air-Layering & Grafting.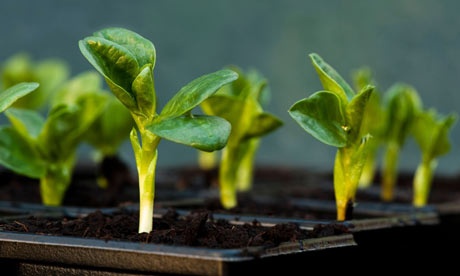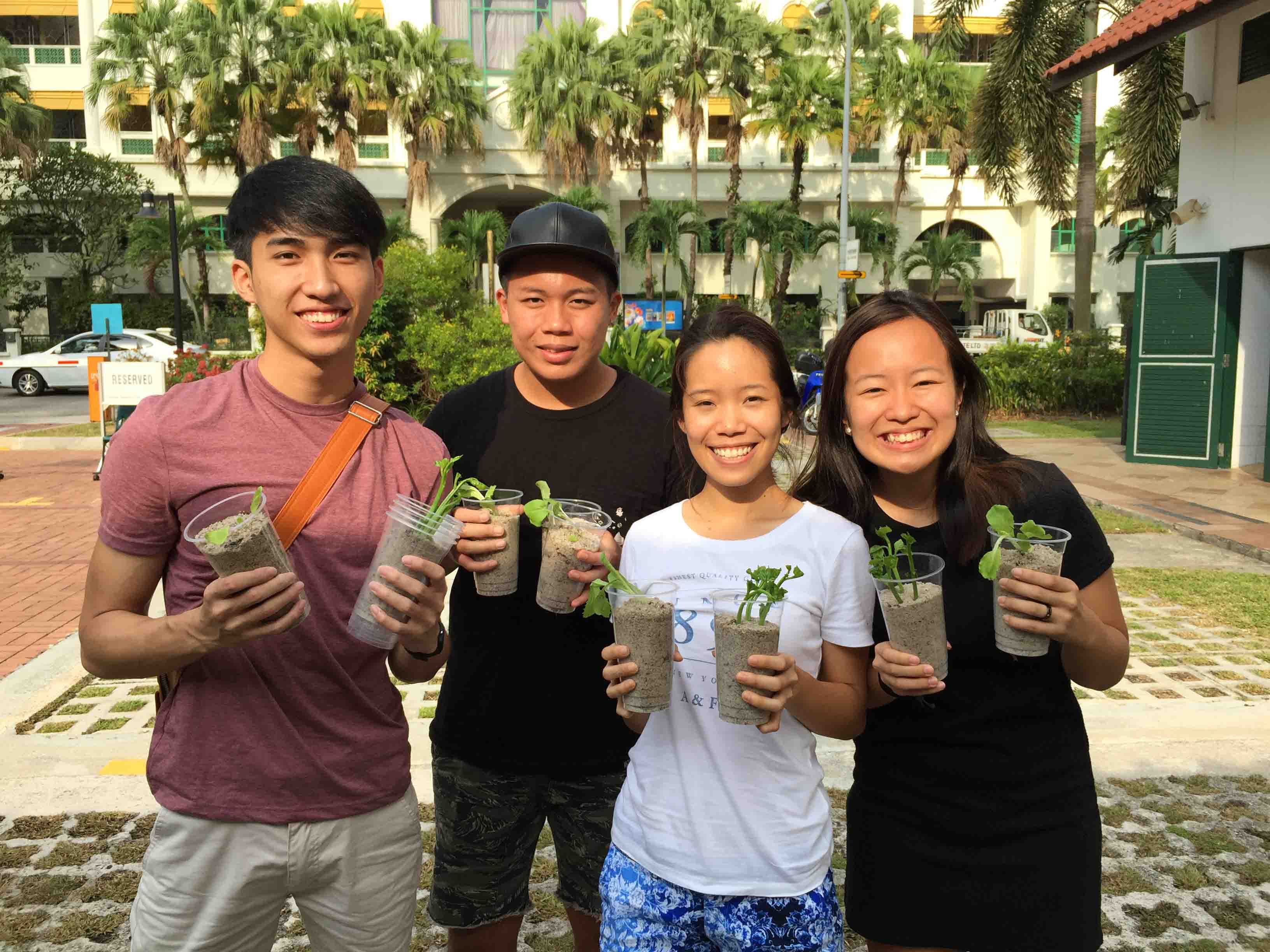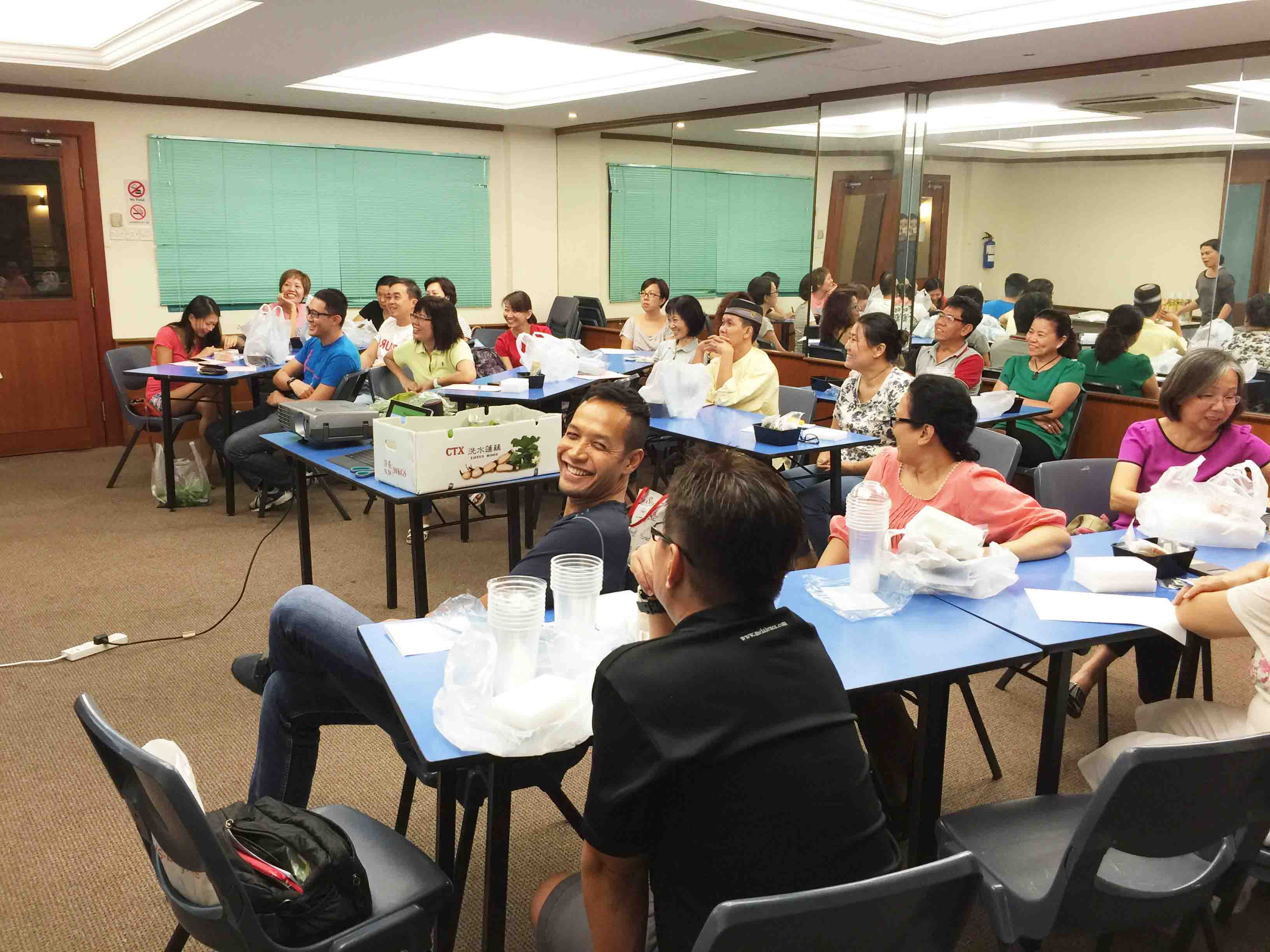 ---
What Do People Say About Us?
"Everyone who wants to try gardening but keep failing should attend. It really makes things clearer and easier!" – Dawn (Teacher)
"Joanne is knowledgeable, humble and down to earth. I enjoyed every minute of the workshop and am inspired by her example. I would recommend the course to anyone." – Loh Lih Woon (Workshop Participant)
"Joanne is very knowledgeable & passionate in what she do. She shares her knowledge unselfishly & I learnt alot from her & benefited from this workshop. Thanks!" – Jana Ng (Workshop Participant)
"Thanks to Gardens With Purpose, I am now enjoying an edible garden in my own front patio! Look how well my vegetables are growing! Looking forward to growing more organic vegetables and providing for my family continuous fresh supply." – Sherryl Lim 
"Good workshops! Trainer(s) dont hold back in sharing knowledge and tips" – Alfred Lee
For Whom?
This Workshop is for the following people:
People who want to up their gardening skills to farming skills.

People who are working or would like to work in Farms.

People who want to get serious about Organic Farming.

People who want to expand their edible gardens.

People who want to keep up with the forthcoming Organic Trends.

People who wants to reduce Toxic food and Toxic LifeStyle

Nature lovers who wishes to get back to nature
This Workshop is

NOT

for the following people:
People who do not have an open mind and lack the zest in learning any new.

People who have not acquired Green Fingers yet.

People who still prefer using Toxic Chemicals in Agriculture.

People who prefer simple dull life
**Please notes: The Venue of the class may be changed.
Please pay attention to our notification text messages (SMS)
Date:

7 Oct 2023, Saturday @ GWP Training Centre (ENGLISH)
Time: 9:30am to 5pm
Workshop Venue:
GWP Training Centre
479 Sims Avenue, Singapore 387551
(Near Paya Lebar MRT)
---
---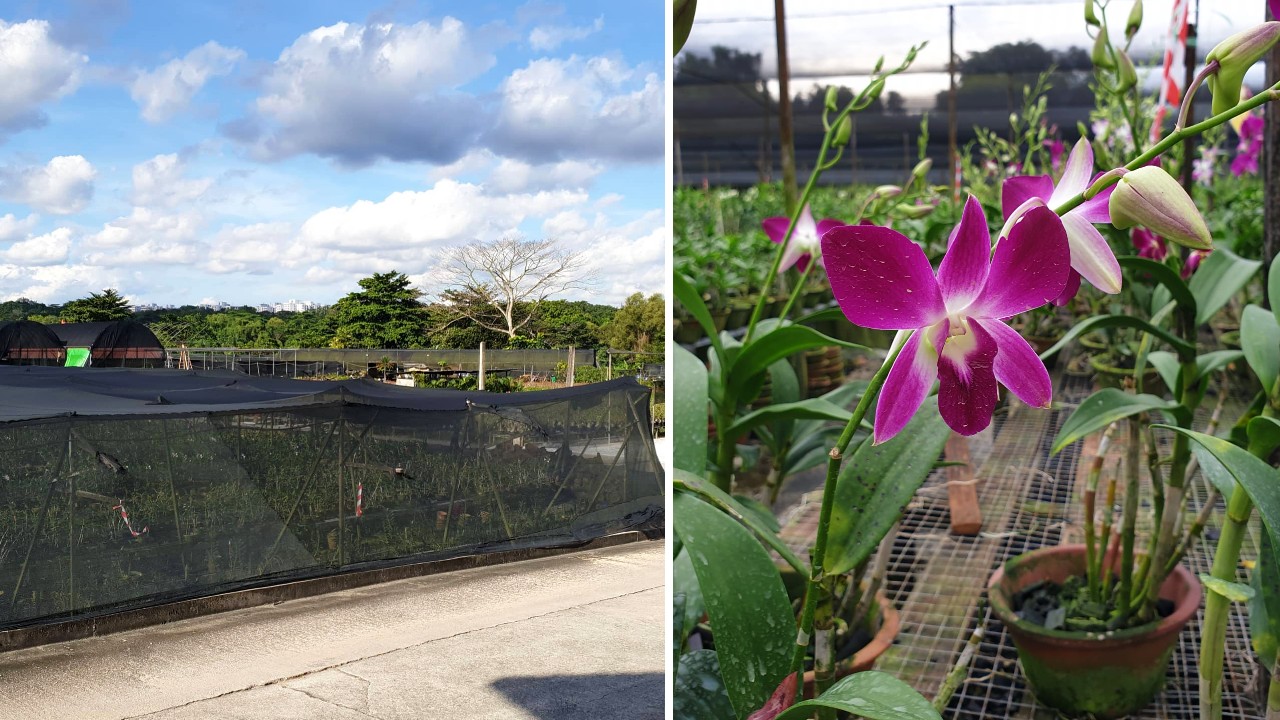 Fee :       
*

*

S$360 per pax
SkillsFuture Credit Eligible!
*Standard Single Ticket price. Check out our Special Offers.
Transport from Choa Chu Kang MRT Station (for Toh Orchids)

will be provided.

No Transport will be provided for GWP Training Center. Walking distance from Paya Lebar MRT, Exit C.

No Transport will be provided for Oxley Bizhub. Walking distance from Tai Seng MRT, Exit B.
Early Bird Discount

It's true, the early bird catches the worm!

Enjoy 
Limited Early Birds

tickets

(limited signups daily or before the timer runs out)


at the special price of S$331 (u.p. S$360)
Sign up before the time runs out!
Buddy Special
Bring along a buddy or more and enjoy an
additional

 

S$25

 discount

OFF EACH TICKET

!
Double the learning, and DOUBLE THE FUN~
Regular 2-pax Buddy Special is now
S$335/pax (u.p. S$360)
Combined with the Early Bird promo, a 2-pax Buddy Early Bird Special is only
S$306/pax (u.p. S$360)
Click on the Button below and Sign Up Now!
Covid-19 Precautionary Measures
GWP has in place precautionary measures to keep our students and staff safe and healthy. These measures are based on recommendations from the Ministry of Health, Singapore and consistent with guidelines set by SkillsFuture, Singapore.  The following precautionary measures will be implemented:
– TraceTogether-only Safe Entry (TT-only SE) has been implemented since 17 May 2021. Please carry the TT token or app with you at all times.
– Health and Travel Declaration will take place at the beginning when participants sign in.
– Class size will be limited to ensure 1m gap between each participant during training in adherence to safe distancing measures.
– Seating arrangements will be made to ensure a 1 metre gap between each participant during lesson.
– All participants are to wear your mask at all times and strictly no mingling.
– Hand Washing area with regular soap are available (regular soap has been proven to be most effective in preventing infections and virus spread)
– A face shield will be provided to all participants (while stocks lasts)
– A surgical mask will be provided upon request (while stocks lasts)
Due to these measures, the following interested participants are advised not to register for our workshop(s) till 14 days later and are feeling healthy as they will not be allowed to enter the training room.  If you have registered, do contact us immediately at 6546 5801 to postpone your workshop.
People who:
1. Have been overseas in the last 14days.
2. Are diagnosed with Acute Respiratory Infection (ARI).
3. Are themselves or have household members under Home Quarantine Order (HQO) or Stay Home Notice (SHN).
4. Have themselves or have household members received Health Risk Warning (HRW) or Health Risk Alert (HRA) SMS from MOH in the last 14 days.
5. Are not feeling well or display symptoms of illness.