It is said that people who owns dogs are not just dog owners, but they are lifelong dog lovers.
To us, our beloved furkids (dogs) are not just pets, they are family and we only want

the best for them

.
I hope you can forward this email to your dog loving friends, they would really want to hear this story.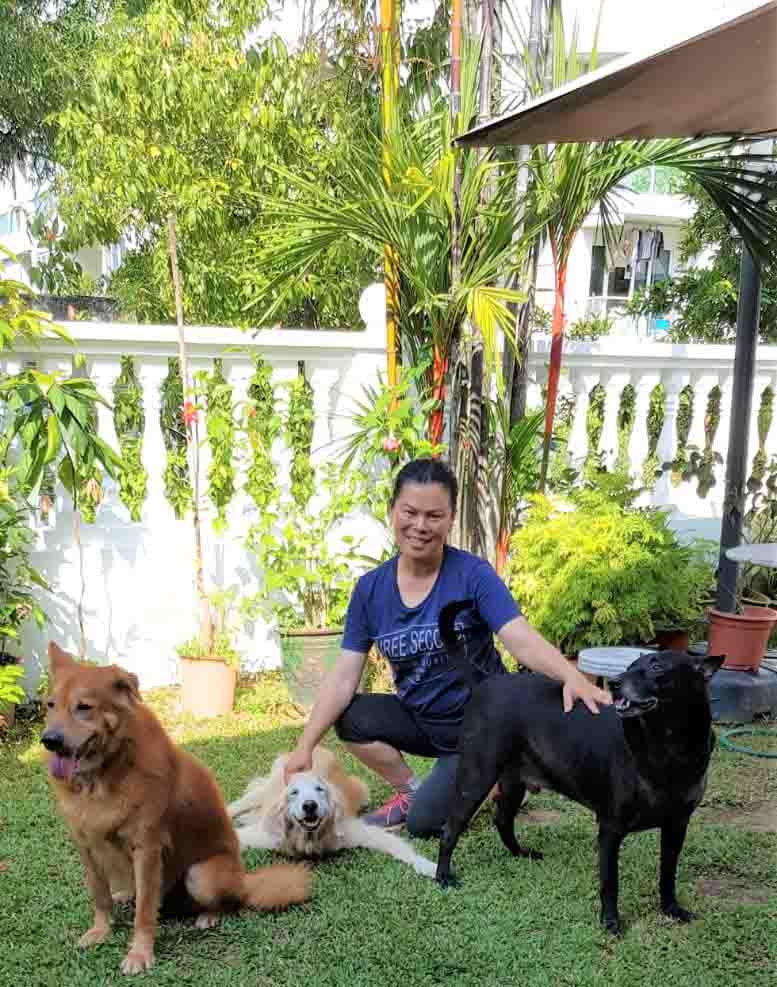 You might already know that I'm a strong advocate for eating Organic, using Natural Herbs & Food as our Medicine, finding healthy alternative options such as enzymes,

natural soap

, filtered water, etc.
But every story has a beginning and my journey towards seeking Natural Remedies, Organic lifestyle and farming began with my beloved Retriever named Lucky.
So this is a story about a dog named Lucky.
About 10 years ago, we found Lucky, a Labrador retriever, abandoned and wandering in a park near my home. He had a swollen leg as a rubberband was wound round his leg joint. (Probably some kid thought that it was funny).
He wasn't aggressive and there was this look in his desperate eyes which seems to be
asking for help

. We therefore removed the rubberband and decided to adopt him.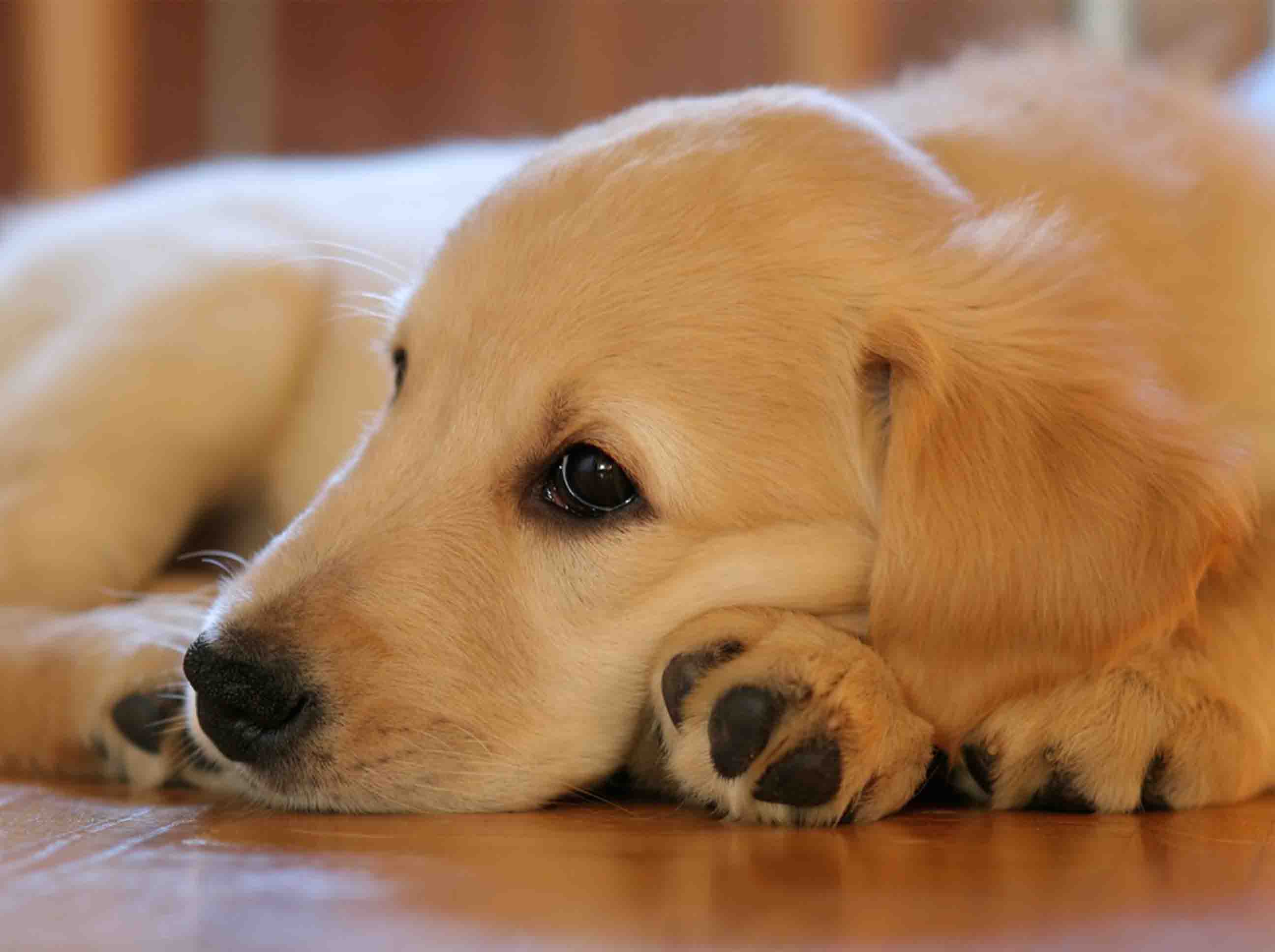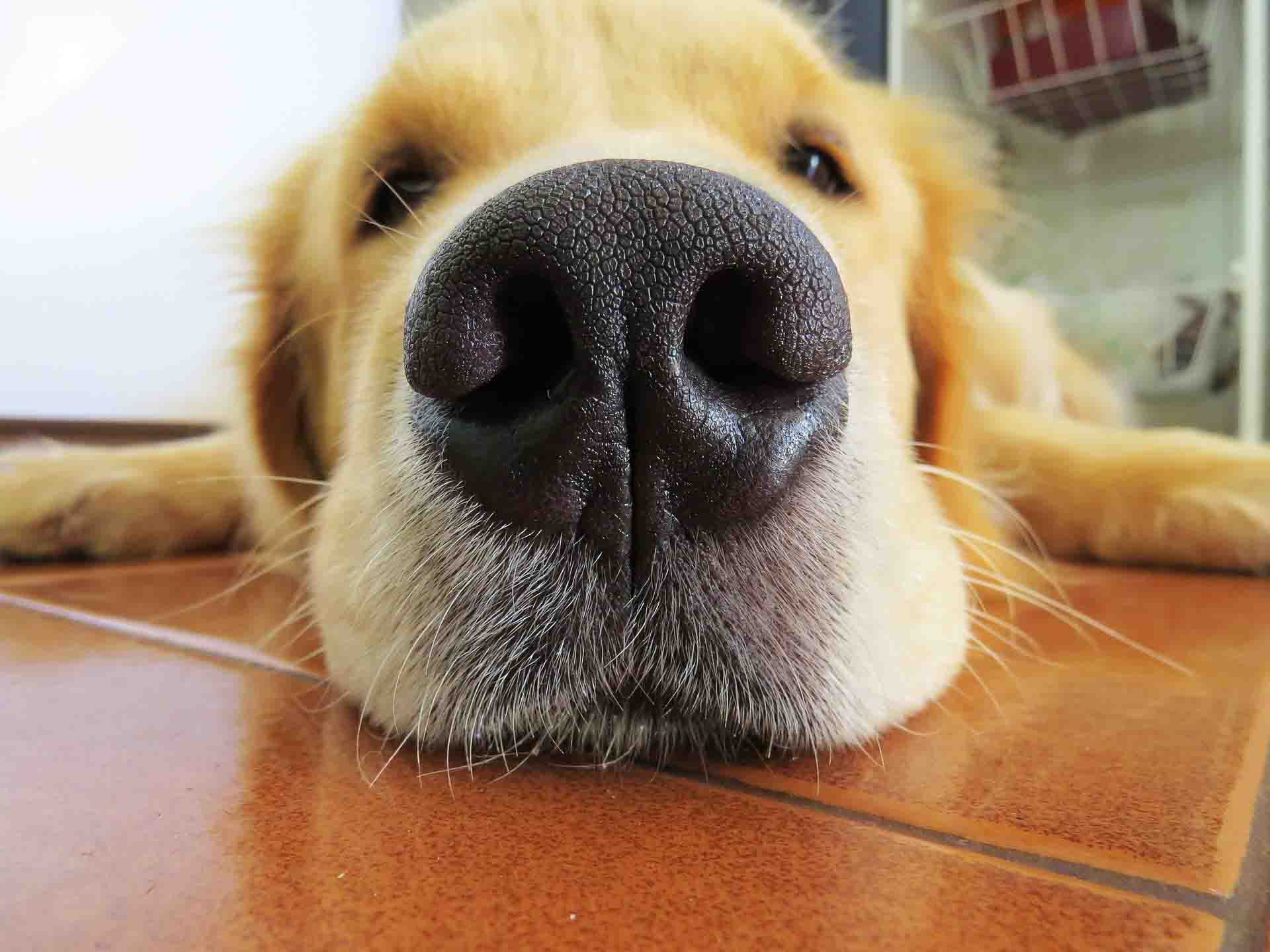 Lucky has been an angel to our family. He was always happy and loved to cuddle. He even helped to carry in groceries from our car. His tail wagging all the time with excitement.
Among all my dogs, 4 at that time, Lucky was always the sweetest and loved everyone around him.
As recommended by most dog owners, we always fed our dogs with home-cooked food. Knowing that it

should be

the

healthiest option

.
2 years down the road, just when I thought my dogs were doing well with home-cooked food, Lucky started growing very thin within days and he could not get up again.
I was deeply saddened when our Vet confirmed that Lucky had Cancer. I came to the realization that even human food is tainted with undesirable substances.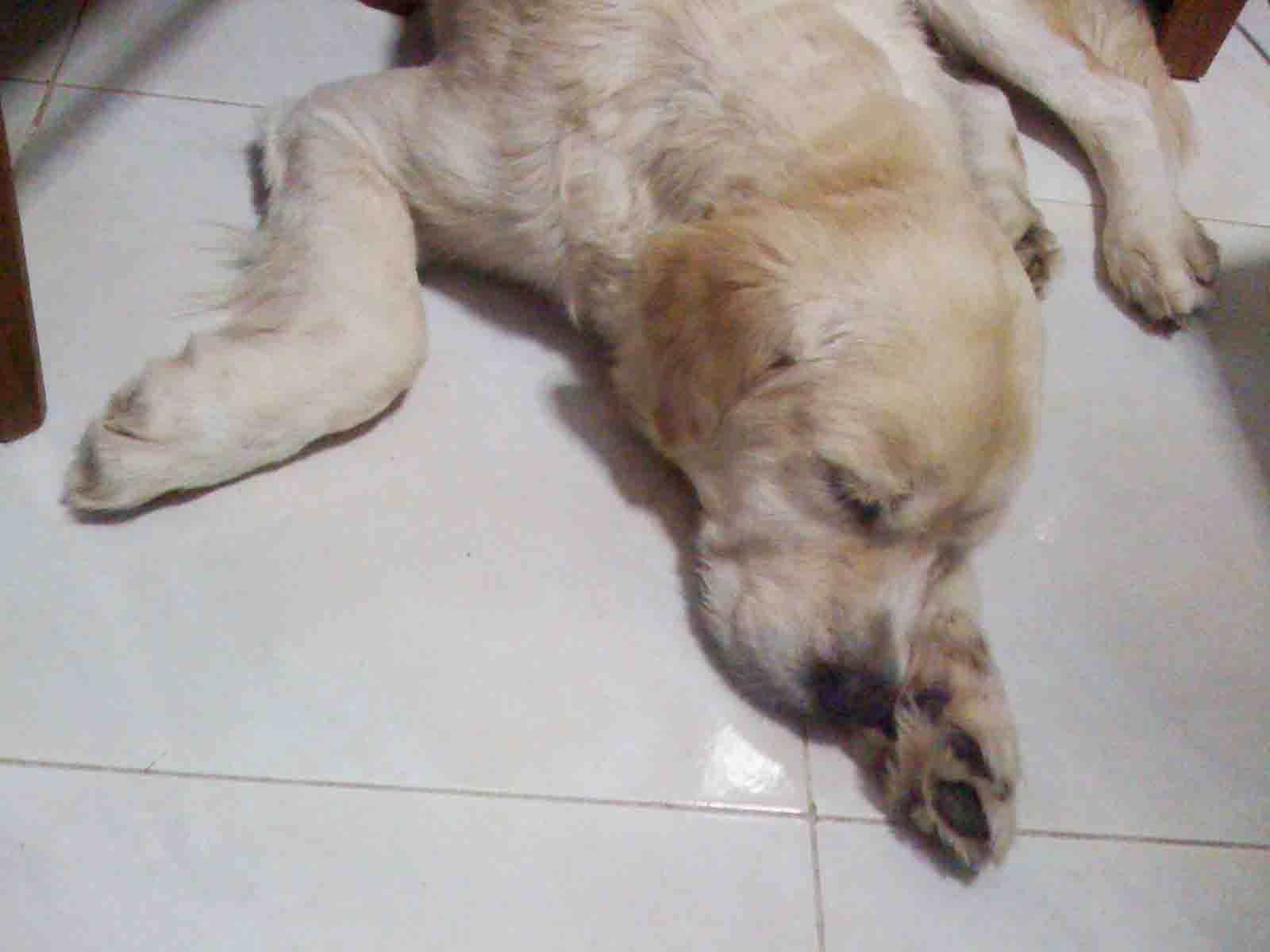 Feeling Helpless and Hopeless when my Retriever Lucky collapsed with Cancer
I was so lost and desperately praying for a miracle. I love every dog as though they are my own babies. Lucky was like a son to me.
I relentlessly searched the internet for miracle cure and I had tried everything I could possibly do, but the situation was hopeless.
How can I Cure my own baby from Cancer quickly ?
I also found out that not only the food we eat, the air we breathe, the water we drink, the products we use, all have
cancer causing toxins

.
By Day-20, all I could do was to stay close to my dying retriever crying and praying. I felt so lost in dealing with
Lucky's death

that I had to go away for a week to grief,  and I often wonder what I am going to do when CANCER strike on the next dog,  or myself or worst,  my own children.
That is when I decided that I do not want to ever let CANCER happen in my family.  I got very serious about
NOT HAVING TOXIN in our household

.   I know that if I can ensure toxic-free lifestyle,  my entire family and dogs will live long healthy lives,  grow younger with good skin,  good hair and good eyes, etc.
I refused to believe that big dogs only have 7 years of healthy life. That once you're passed that
7 year mark

, their health have to deteriorate.
---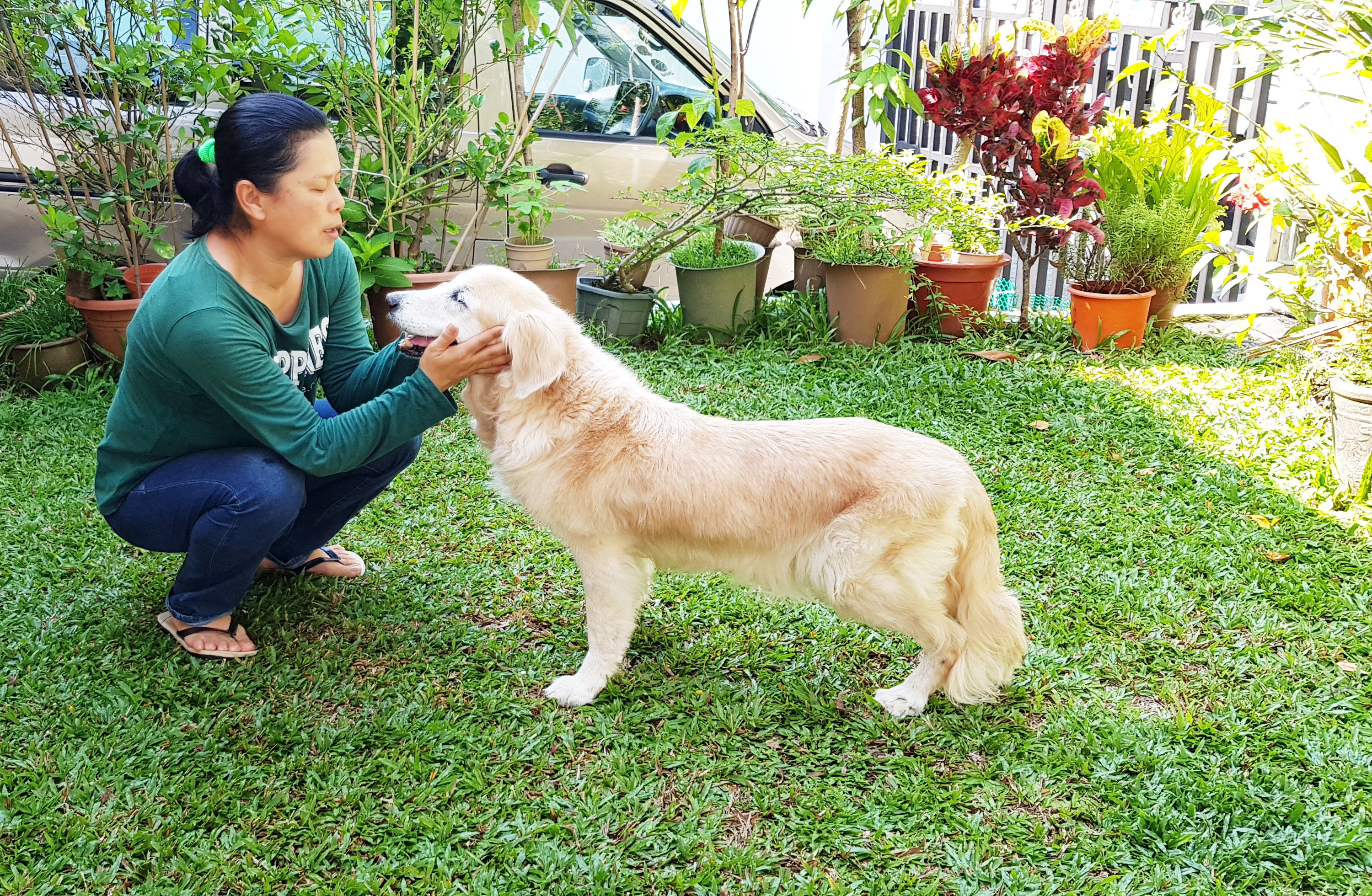 When I returned, I was so fired up to Never Let Any One or Any Dog Be Sick again, I decided that this family does not need Cancer nor any other diseases.
That's why I adopted another ailing Retriever and began my Organic Health Journey.
The New Journey
Throughout the years that followed, I've researched and tried out multiple natural remedies for the common dog problems and was surprised by how effective it was.
Combining my Organic Gardening knowledge, Organic Herbs, Probiotics, etc, I've good remedies whenever my dogs develop :
Infections

Eye issues

Ear issues

Common skin problems

Fungus issues

Indigestion

And many more..
All these and using only natural means.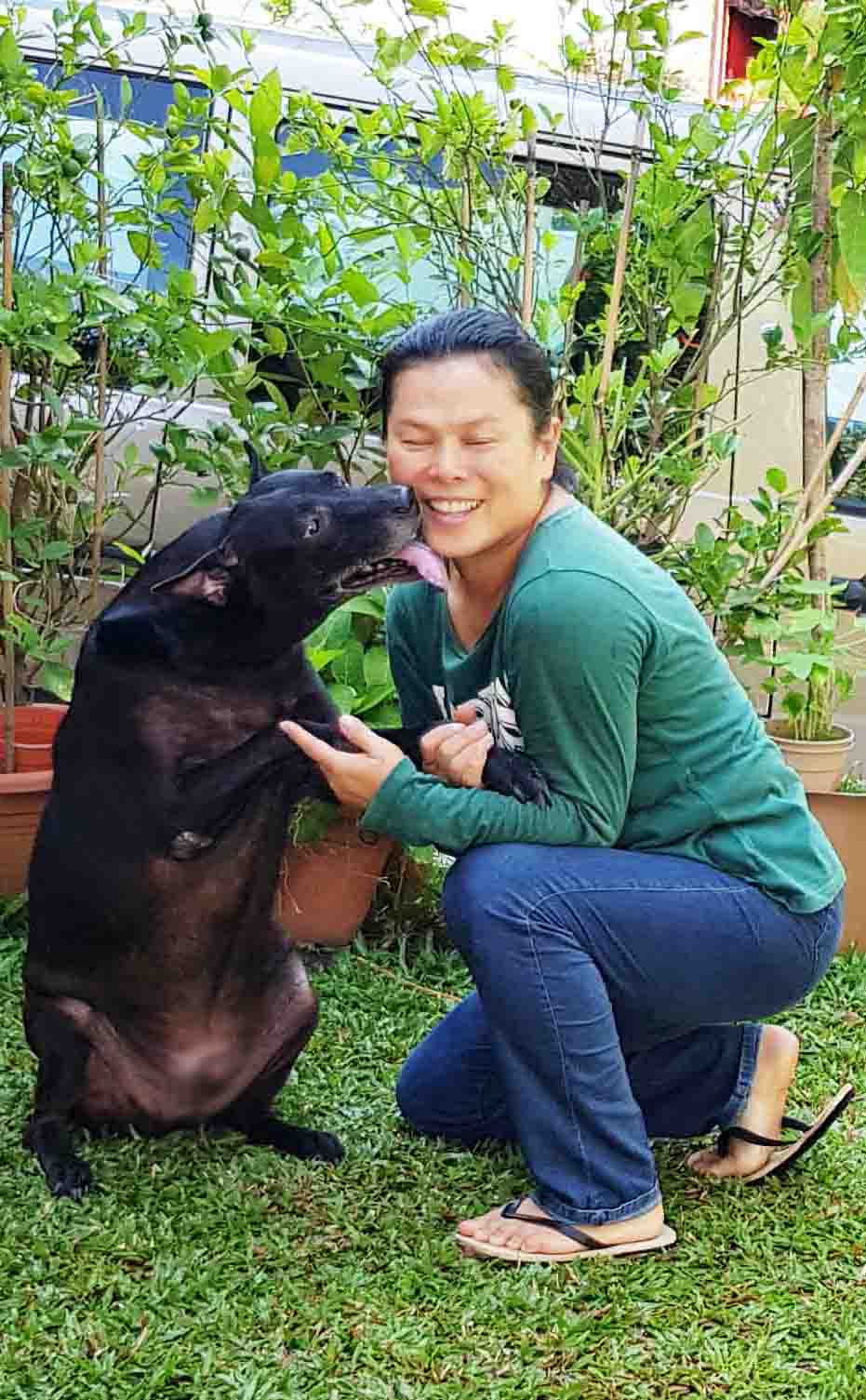 It's been 8 years now since Lucky died,  my other 2 dogs are now
12 -13years old

(over 80 dog years)

.  They do not have any Liver Spots nor Lumps, cataracts, etc.   In fact,  they look half their age and still

behave like young teenagers

.
Their eyes sparkles and their glossy fur can be seen in the photo below.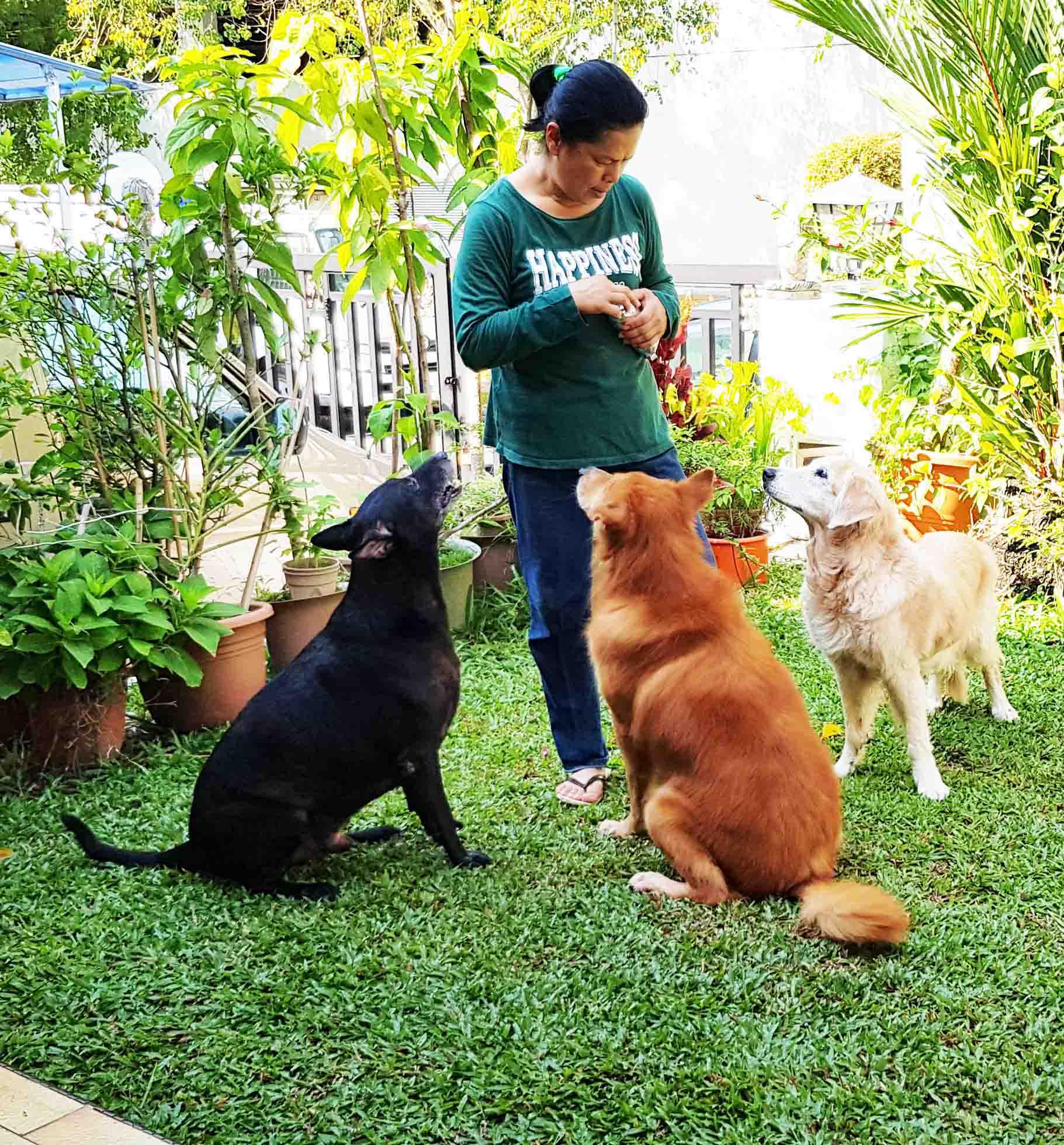 I've always shared this story to the participants in all my classes.
To my delight, many of them are also dog lovers and have requested for me to conduct a workshop covering this topic about Natural Remedies and Cooking for dogs.
Therefore I believe it is time to share these secrets to all dog lovers.
---
Click on the red button above or the blue words below if you wish to find out more about this workshop.
I hope you'd also share this message to all your dog loving friends!
There is always a way and Nature has provided us with everything we need.
I sincerely hope to see you at the upcoming workshop on 7th April 2019
Yours Sincerely
Joanne Ng
Top Gardening Trainer & Nature Lover
Gardens With Purpose
www.Gardens-With-Purpose.com