We have wonderful news for you  from Gardens With Purpose.     We have recently launched a Vertical Garden solution :  GWP Organic Veggie Walls
Yes,  with this simple system,  everyone can really grow Organic Vegetables at their own home,  including folks living in HDB flats.   As long as there's sunshine and you spend 5 minutes everyday to water your plants,   you can really grow your vegetables, harvest and eat your 'live' organic nourishing vegetables within 3 weeks.   No special skills required,  with our system,  everyone has green fingers.     It is very easy indeed.
Over 20 of our Organic Veggie Walls (OVW) have been installed all over Singapore :  landed homes,  condominiums,  schools,  office and HDB flats.      Our OVW owners are already enjoying their regular supply of 'Live' Organic Vegetables every month :  100 pots of Local Lettuces, Red Oak Lettuce, Chinese cabbage, Chye Sim and Kow Pek Chye.
At 'The Art' Restaurant,  inside Assumption Pathway School
This is our first installation and GWP's pride and joy.    This wall has produced many rounds of 'live' organic vegetables and have been THE Attraction for the restaurant.   The manager in charge, Mr Aziz  loves gardening and he totally believes in LIVE ORGANIC Vegetables.    He too has one OVW at his HDB home in Tampines,  his family gets to eat quality vegetables everyday.
Organic Veggie Walls in Schools
Often,  schools find it hard to build or sustain an Edible Garden.   It is also be hard to find an Organic Gardener who can take good care of the Veggies and Herbs.    Hence,  usually, schools would install a Hydroponic System instead of teaching with conventional garden plots.
Here at Gardens With Purpose,  we strongly believe in "Back to Nature",  nothing can compare to the wonderful creations of Mother Nature :  Soil.      Students get to have their hands dirty :  transplanting,  soil mixture, watering and fertilizing their plants.    They get to see and observe each and every plant every day.  This is important for students' learning :  observing the weather and the plants' environment, plants' response and caring for plants.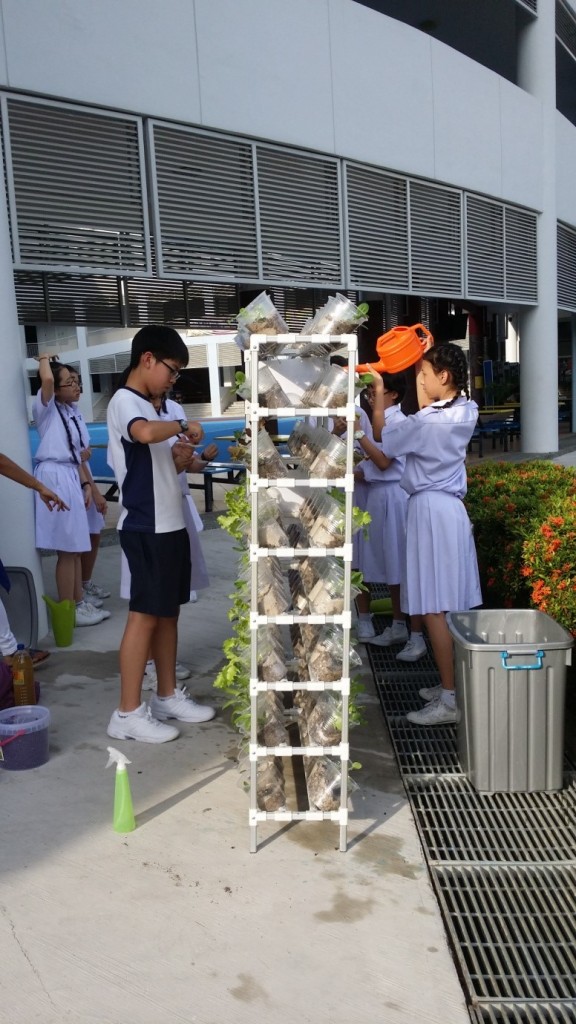 Students of Nanhua High School setting up their own Vertical Garden from scratch.    The walls are placed under the hot sun.    Despite the recently heavy downpour and intense April 2015 heat,   they managed to get 80% harvest.      Students were given full responsibility of taking care of the plants for an entire month.   They put up a roster,  2-3 students were scheduled to water the plants every morning and early afternoon.     There's no one to water the plants on Sunday,   and,  fortunately, most of  the veggies survived the harsh conditions.      It's definitely a wonderful learning experience for these Secondary students,  this is the first time they've planted and taken care of Veggie Plants.    Now they know that THEY CAN.
"This is super fun"  muttered one of the students.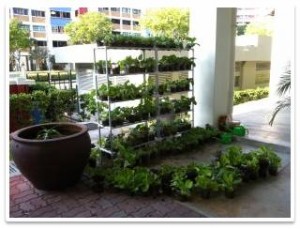 At Yishun Town Sec,  two OVW were placed under a shelter near the school gate.    The oblique sun rays is ideal for leafy vegetables growth.     Student volunteers water them everyday.      On Saturdays,  2 students would come back to school to help keep the plants alive.     After 3 weeks,  over 100 pots of vegetables were fully grown and they look too beautiful to be eaten.  So they decided to give a pot to every teacher in the school.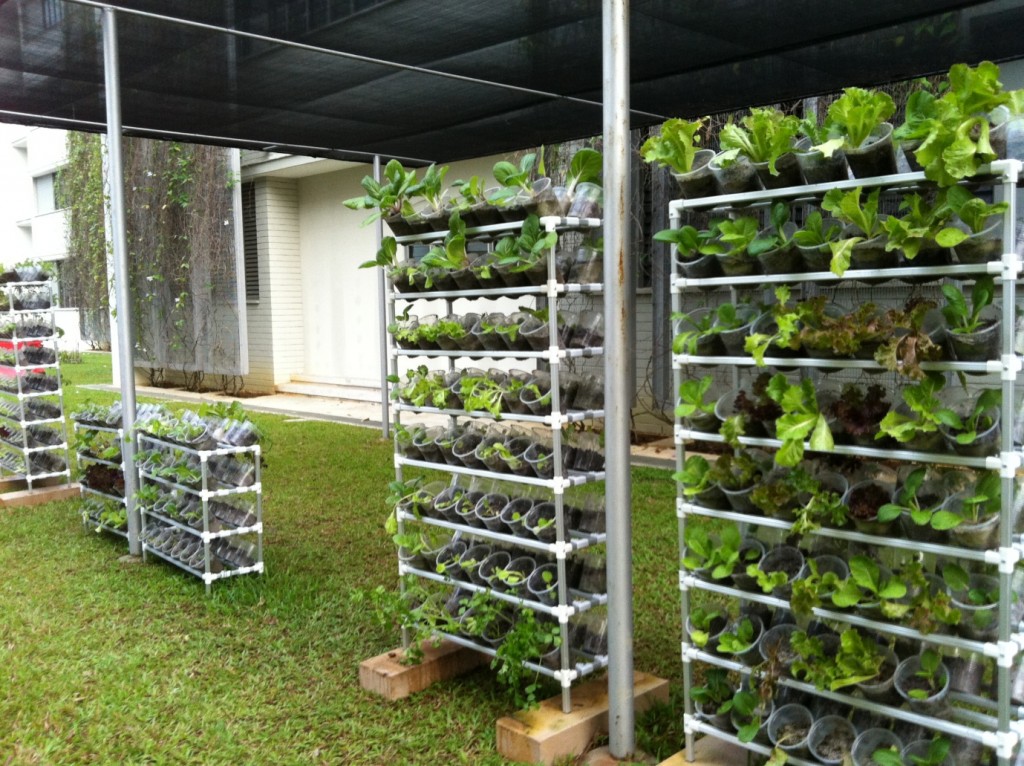 5 OVW were installed at Pathlight School.    The school has allocated a garden corner to help bring their students  closer to Nature.    Students are required to spend some times helping out at their Vegetable Gardens,   students get very excited when it comes to Harvest Time.
Delicious Asparagus Growing from our OVW
Yes,  it is true,  the photo below is taken from MOE Campsite at Changi Coast Walk.   This OVW is mounted inside an edible garden plot.   There are about 50 Asparagus plants producing delicious Asparagus shoots everyday.   Simply plug and eat it directly,  mmmm lingering nutty taste.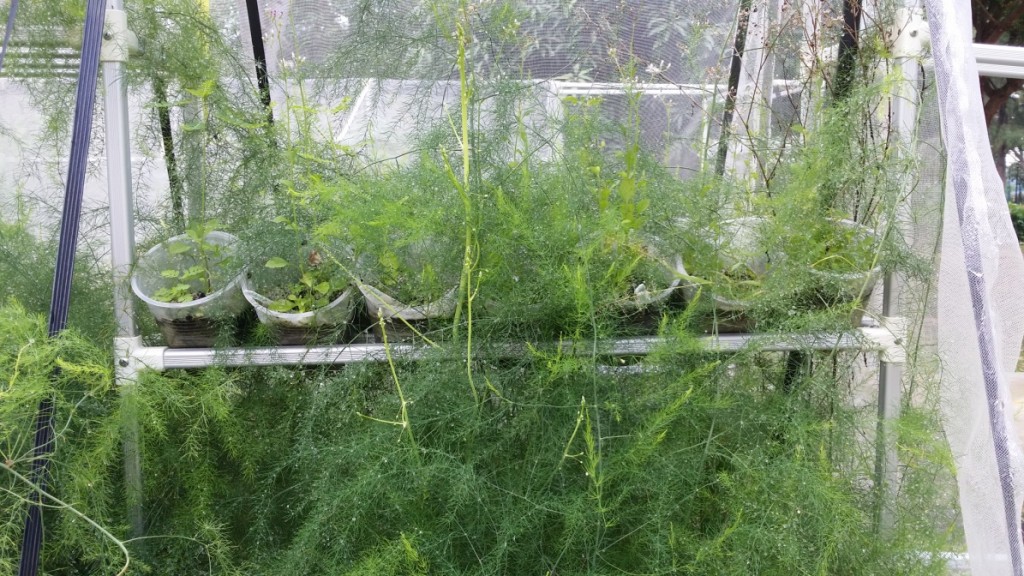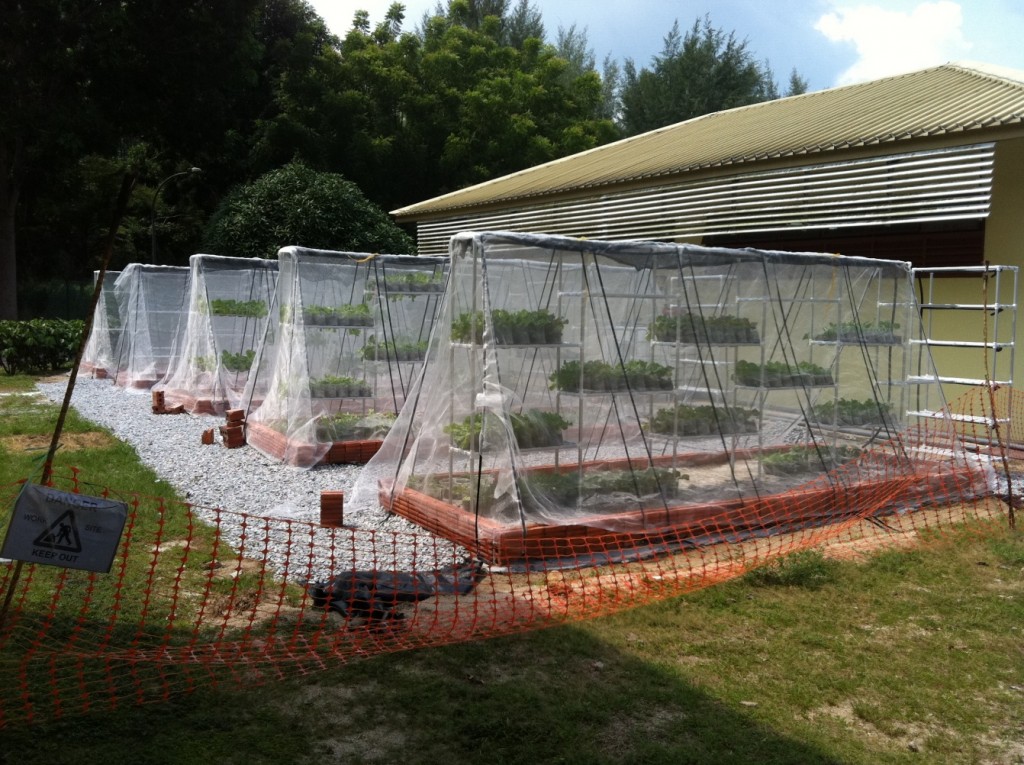 All Kinds of Environments
This OVW below is owned by a very wealthy family in Tanglin district.  This dainty wall fits in nicely with their green surrounding.   The wall gets full morning and evening sun everyday.    The water from the fish pond is ideal for veggie growth.    Owner is so proud of this new additional to her garden. Occasionally guests would come and get to eat 'Live' organic vegetables from this rack.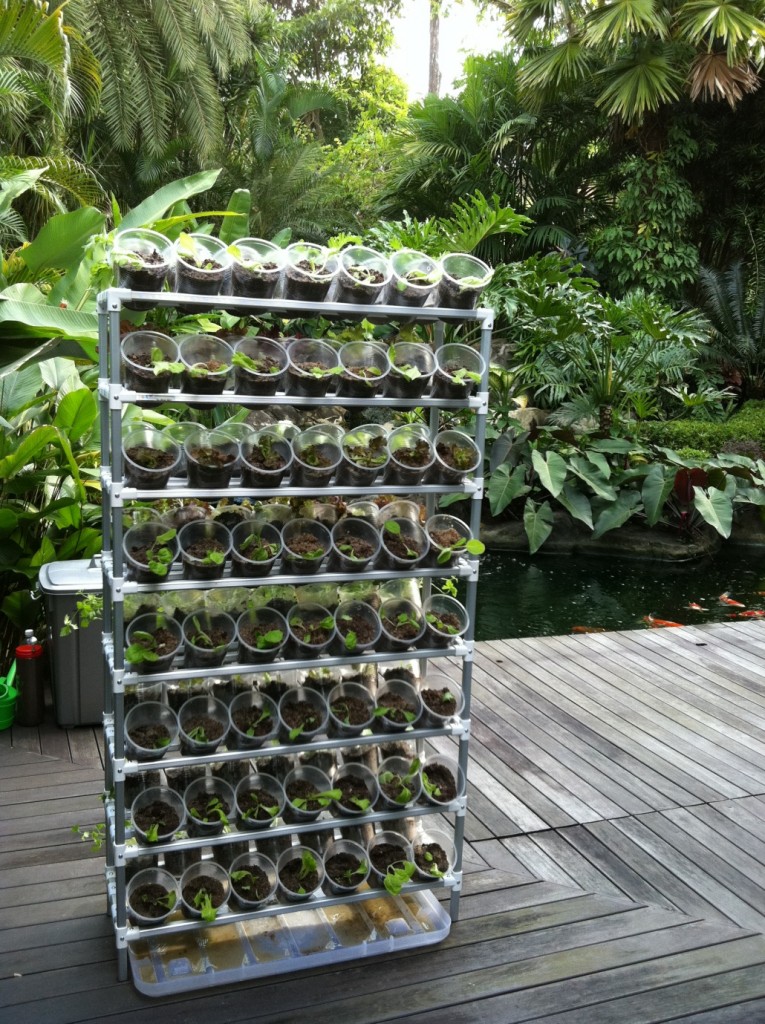 Another proud owner of OVW, Mr Gordon, of Poh Huat Road "The vegetables taste quite good,  my kids like them."     At first,  the plants didn't grow well,  drying and limpy,  his OVW was placed between 2 hot walls facing the afternoon scotching sun.   After moving it away,  the plants revived.    Mr Gordon managed to harvest all the vegetables and feast with his family of 7 kids,   in time before they go for their holidays.
As soon as they got returned from their holidays,  Mr Gordon,  replanted all 100 pots with a new batch of seedlings.
Every home is different.   It is important to observe the surrounding conditions.  All living things cannot withstand the heat radiating from the walls or floors that faces the unbearable noon sun.    Every inch away from this heat source makes all the difference.     Plants love sunshine,  but not the heat.
Growing well in HDB Corridors and Balconies too
Our OVW,  though house 100 pots of leafy vegetables,  it is small enough to be placed outside this 3-Room HDB flats,  along their corridor.    The oblique sun rays is ideal for the veggies.
"Back in those days 15 years ago,   when I was working in the Corporate world,  I used to marvel at those gardeners with green fingers.   I would envy their beautiful lush gardens.    I used to think one really has to have magic of green fingers.
Whenever I read success stories about how some folks grow their own vegetables out of foam boxes,   I would ask myself "how is this possible ? ".     Now,  after spending 5 years of meticulous studies and testing things out,   I created OVW.   The design is so simple and affordable, everyone can and should  grow their own vegetables.  No more elusive rocket science knowledge.
Today, I am so glad to see's my OVW's veggies growing so well in others' homes.   My dream is to see  OVW,  installed in every home, knowing that people get to enjoy wholesome nourishing vegetables everyday.    They will also discover that Gardening is so joyful and quite easy, actually."         Joanne Ng,  Founder of Gardens With Purpose 
To purchase a veggie wall, please click Here!
For more information on our OVWs, call us at Tel: (65) 6546 5801 or reach us Here!
Regards,
Joanne Ng
瑞芳Rui Fang